Obituary: Gerald "Jerry" Eugene Taiclet
Gerald "Jerry" Eugene Taiclet 74 of Girard went to be with his Lord Monday, November 12, 2018.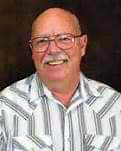 He was born March 7, 1944 to Alvin and Elizabeth Cook/Taiclet in Fort Scott, Kansas. He was raised in Fulton, Kansas where he graduated in 1962. Jerry married Patricia Didlake on December 31, 1985, she survives the home. He was a dedicated employee of Super-Sweet feeds for 31 years before retiring.
Survivors include Pat Taiclet, Gerald M. Taiclet of Girard, Mike and Dena Taiclet of Humboldt, John Taiclet of Pittsburg, and Kimberly Dechicchio, Sanchez of California. Jerry was preceded in death by father Alvin, mother Elizabeth, sister Donna, brother Teddy Gus, daughter Angela Taiclet, stepdaughter Kathy Porter Clinton, stepson John Porter, and Linda Hobbs, first wife and mother of his children.
Memorial services will be Saturday, November 24, 2018 at 11 a.m. at living Faith Church 510 East Highway 47 Girard, Kansas. Family will be receiving friends Friday, November 23 until 7 p.m. at 603 South Cherokee Girard.