Obituary: Barbara Jean McClaskey
   Barbara Jean McClaskey, 91, passed away at 9:45 a.m., on November 18, 2018, at Medicalodge in Girard, Kansas.

 

She was born on December 6, 1926, to Emil and Barbara (Wenzinger) Ensman in Pittsburg, Kansas.

  

She grew up and attended school in Pittsburg.

  

At age 17, Jean began nursing school and joined the U.S. Cadet Nurse Corp.

  

She earned her Diploma in nursing from Mt. Carmel Hospital School of Nursing in 1947.

  

She strived to increase her education and completed a Bachelor of Science in Education with a major in Biology from Pittsburg State Teachers College in 1951.

  

She later earned her Master of Science in Sociology from Pittsburg State in 1972.

  

She went on to take graduate nursing courses at Texas Women's University and the University of Kansas and earned a Masters in Nursing  from KU in 1981.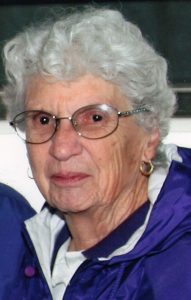 She married Jack Eugene McClaskey on June 16, 1951, in Pittsburg, Kansas.

  

He preceded her in death in 2012.

 

Although Jean had a degree from the University of Kansas she became an avid Kansas State University Wildcat fan and accompanied Jack to many KSU football games.

  

She also remained a great Gorilla alumni and fan and even made a couple of trips to championship games.

 
   Barbara Jean's first nursing role as an RN began in 1947 as an evening supervisor at Mt. Carmel Hospital.

  

She later became an instructor in the School of Nursing at Mt. Carmel and after the closure of the diploma program at Mt. Carmel she began teaching maternity nursing in the BSN program at Pittsburg State.

  

She taught for over 30 years and served as interim chairperson on at least two occasions.

  

She spoke highly of the opportunity to work with so many wonderful faculty and students while at Pittsburg State.

  

One of her greatest contributions was the individual impact she had on the hundreds of students who became better nurses thanks to her work with them in the classroom and clinical setting.

  

Although a busy mother of six, as well as a university professor, she also found the time to help with the farm and the raising of sheep.

 
   Jean was also very involved in professional organizations.

  

She was a charter member of the PSU Chapter of Sigma Theta Tau International Nursing Honor Society.

  

She was active at the District and State level of the Kansas State Nurses Association serving on the KSNA Board of Directors as well as the Kansas State Board of Nursing.

  

She was honored as the March of Dimes Nurse of the Year in Maternity Care.

  

She also served on the St. John's Hospital Board of Directors.

  

She was a member of the American Legion Auxiliary and was a member of St. Michael's Catholic Church in Girard.
   She was preceded in death by her parents, her husband, and all of her siblings including Elizabeth Bates, Marie Freisberg, Cecilia Waggoner, Wilfred Ensman, Edmund Ensman, Leo Ensman, and Dorothy Wickware.

  

In addition she was preceded in death by her son David McClaskey, and  granddaughter Landry McClaskey.

  

She is survived by daughter Barbara (Bardie) McClaskey and husband (John Kreissler) of rural Girard; daughter Dorothy Neely and husband (Mark) of rural Chanute; daughter Carolyn McClaskey and husband (Rick Summerhill) of Manchester, Michigan; daughter Mary McClaskey of rural Girard; daughter Jackie McClaskey and husband (Mike Matson) of Manhattan, Kansas; grandchildren Katie McClaskey, Clement Neely and wife (Allison), Glendolyn Neely, and Faith McClaskey; and great grandchildren Luke and Grayson Neely.

  

She is also survived by many extended family including nephews, nieces, step grandchildren and great grandchildren.
   Mass of Christian Burial will be at 10:30 a.m., Saturday, November 24, 2018 at St. Michael Catholic Church of Girard with Fr. Floyd McKinney as celebrant; burial will follow in the Girard Cemetery. The Rosary will be at 7:00 p.m., Friday at the Smith-Carson-Wall Funeral Home with visitation to follow.

  

Friends may call after 2:00 p.m., Friday at the Smith-Carson-Wall Funeral Home.
   Expressions of sympathy may be made to the Barbara Jean McClaskey Scholarship Fund at Pittsburg State University, the St. Pius X Catholic Student Center, or the McClaskey Scholarship Fund for Girard High School graduates and these may be left at the church or the Smith-Carson-Wall Funeral Home or mailed to the Smith-Carson-Wall Funeral Home 518 W. St. John P.O. Box 258 Girard, Kansas 66743.