Obituary: Harlen Swift
Harlen Swift, 82, of Frontenac, Kansas, died at 5:30 p.m., Sunday, November 18, 2018 at his residence.
Harlen was born September 7, 1936 in Buffalo, Missouri, a son of Amos B. and Opal (Edwards) Swift.  He graduated from Frontenac High School in 1955.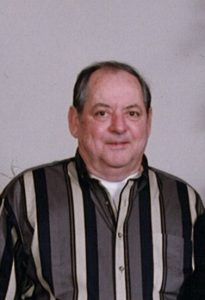 Harlen married Cora Kichler on October 12, 1956 in Trinity Lutheran Church in Girard. Harlen's sister, Wilma Swift, married Bill Price in a double ceremony at the church.  Cora survives of the home.
Harlen worked as a mechanic at Vern Plattner Motors in Pittsburg before opening Harlen's Auto Service in Pittsburg in the mid 80's.  He retired in 2005.
He served in the National Guard and he enjoyed his family, boating, and fishing.
He was a member of Trinity Lutheran Church in Girard.
Survivors, in addition to his wife, Cora, of the home are a daughter, Anita Edwards, and her husband, Kenneth, of Frontenac; a son, Tony Swift and Anita Rhuems, of Girard; a grandson, Anthony Swift; a great-grandson, Blake Swift; his granddaughters, McKayla Edwards, Stephanie Edwards, and Alanis Swift; a brother, Orville Girlz of Frontenac; his sisters, Wilma Price of Frontenac and Leola Arbuckle of Pittsburg.
He was preceded in death by his parents; a brother, Arlen Swift; his sisters, Edna Heardt and Willa Saccanne.
Funeral services will be at 10 a.m., Wednesday at the Smith-Carson-Wall Funeral Home in Girard with Pastor Duane Elmore officiating.  Burial will be in the Girard Cemetery.
Friends may call after 2 p.m., Tuesday at the Smith-Carson-Wall Funeral Home in Girard.
Condolences may be sent to www.wallfuneralservices.com