Trojans mop Rams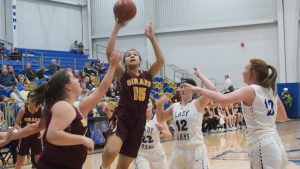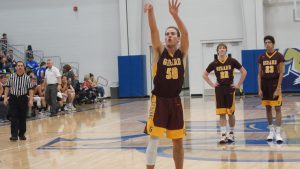 By: Aaron Pyle
         After nearing a full week of no basketball games due to weather, the Trojans were back in action Monday, Feb. 18, for a rescheduled match against the Riverton Rams. This game marks a tough stretch for Girard with three games in a four-day span.
For the Lady Trojans (12-4, 8-1), their last meeting with the Riverton Rams (0-18, 0-9), Jan. 8, resulted in Girard dominating 59-29. Monday night, the Rams were without their key player as was Girard with sophomore Jaada Valley out for the game due to a minor injury.
The Lady Rams were limited to only 7 total varsity players as Girard came in with a full arsenal ready to overpower Riverton.
Senior tandem Gabbi Sands and Kalyn Flaharty provided a heavy amount of offense in the first half for the Lady Trojans scoring inside as well as outside of the paint.
Girard kept reloading the court with their bench depth as Riverton struggled to find any kind of answer.
Stifling defense would hold the Rams to just 10 points in the first half as the Lady Trojans full-court press gave Riverton fits which resulted in easy transition baskets. Girard's all-around first half dominance gave them a 28-10 advantage at the half.
From there the lead would become too much for the struggling Rams to handle as the Lady Trojans (13-4, 9-1) went on to easily win 61-22 over Riverton (0-19, 0-10).
"Just balanced, a bunch of kids coming in believing in themselves, making shots, and playing some pretty good darn defense," said Coach Brad Herlocker.
Sands would finish the game leading in scoring with 14 points including 12 coming from three-point land. Senior Flaharty finished the night in double digits as well ending her night with 10 points.
For the boys (14-2, 8-1), their last meeting with Riverton (9-9, 3-7) resulted in a 63-38 victory over the Rams. Monday night, the game would shape out differently as the Rams came ready to play.
Girard opened up the first quarter on a 10-1 run as the Rams struggled to find the answer offensively.
The Trojans pushed the lead to double-digits to open the second off inside baskets from senior Caleb Muia and outside shooting from junior Ryder Worrell. Muia would crack double-digits in scoring at the half as Girard led 30-16 over the Rams.
Just when it seemed the Trojans were starting to pull away, Riverton came out aggressive on both ends of the court pushing the game back to within single-digits.
Sloppy turnovers and key inside baskets became the key to Riverton's comeback effort as they closed the gap to four points with just over the fourth quarter remaining. With a short run late in the fourth as well as sinking in key free throws, Girard (15-2, 9-1) narrowly escaped the Rams (9-10, 3-8) 48-40.
"We were fortunate tonight, you have to give Riverton a lot of credit because I thought they outplayed us tonight… we're fortunate we got some run-outs and easy bucket if we don't get those it's probably a different outcome," said Coach Rod Wescott.
Muia led the night in scoring as he finished with 24 points for the Trojans. Worrell made a significant impact as well finishing with 9 points and all shots coming from behind the three.
The Trojans will be back in action Tuesday, Jan. 19, as they face the St. Mary's-Colgan Panthers in a conference battle.