Obituary: Virginia Louise Buzard
Virginia Louise Buzard, 89, of Pittsburg, Kansas passed away peacefully on Saturday August 24, 2019.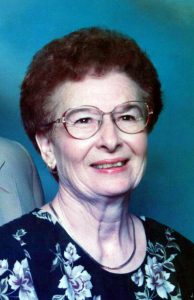 Virginia was born July 27, 1930 in the tiny town of Franklin, Kansas. Her parents were Amos and Pearl (McBride) Mayberry and she was the eldest of 5 children. She attended school in Girard, Kansas where she met her life-long partner, Robert Lee Buzard on the town square. Bob says she served him up a dish of ice cream and "that's all it took". At a spry 19 years of age, she married Bob on August 29, 1949 and the two made their first country home together in Monmouth, Kansas. Later, they filled their house with 2 little girls Connie and Sharon. Being a resourceful and sustainable wife and mother, Virginia mastered the art of cooking, canning, and sewing.
Virginia was never one to rest; always working to better the lives of her family and others. She worked for her Aunt at the family restaurant, then became part of the Brown's Bakery family where she perfected puff pastries, breads, and cinnamon rolls. She later developed into the food service and catering business at Pittsburg State University where she retired in 1995.
She was a devoted and loved member of Meadowside Baptist Church where her love for Jesus was evident in her service to others. There were no outsiders in Virginia's presence where her warmth and encouragement flowed.
Virginia's physical footprint was small, never weighing more than 100 lbs, but her family and friends will remember her as a strong and courageous woman. When faced with hardship or fear, she was an unwavering mainstay. Her family fondly recalls their weekly gatherings around the dinner table when a seamless display of homemade noodles and mashed potatoes, coconut and banana cream pies, and a smattering of homemade breads filled the kitchen. She always prefaced the meal by saying, "this probably won't be very good", when in fact, it was better than the meal before. Her yearly French cookies, banana bread, jellies, and never ending supply of diet coke will be greatly missed. She had a green thumb with lilac bushes, hostas, and petunias covering her spaces. We have peace in knowing she is briskly walking the streets of gold, catching up with old friends, and eating all the donuts she desires. We await the day to be reunited.
Together husband, Bob, daughters Connie (Randy) Burns and Sharon Henderson; grandchildren Carie Gardner, Ben Burns, Chris Burns, and Abby Mutic with spouses; 10 great-grandchildren; and sister, Betty Hicks affectionately gather to honor her legacy. Visitation will begin at 1 p.m., Thursday August 29 with memorial services at 2 p.m., Smith-Carson-Wall Funeral Home in Girard. Pastors Paul Mooney and Nick Bumgardner will officiate. Burial will take place at a later date. Memorials made to Meadowside Baptist Church and condolences may be sent to the funeral home.