Obituary: Bill G. DeMoure
    Bill G. DeMoure, 97, of Girard, passed away at 10 p.m., Friday, August 16, 2019 at the Guest House Estates of Pittsburg.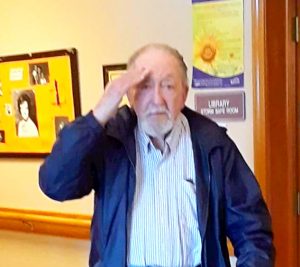 Bill was born April 12, 1922 in Wichita, Kansas, a son of Harrison W. and Cloe (Brown) DeMoure.  He grew up in the Wichita, Kansas and Castle Rock, Washington areas and attended schools in Castle Rock.
He served in the US Army during W.W.II as a tank gunner.
Bill married Cliffie M. Whitton on August 13, 1949 in Wichita. She preceded him in death on August 29, 2017.
Bill worked as a flight line mechanic for the Boeing Aircraft Company in Wichita from 1948 until retiring in 1986.  He and Cliffie moved to Girard in March of 2012.
Bill enjoyed auto racing, fishing, guns and he was a gunsmith.  He was a member of the National Rifle Association.
Survivors are his sons, Pastor Gaylord DeMoure, and his wife, Ruth, of Girard; Victor DeMoure, and his wife, Kathy, of Springfield, Missouri; Vincent DeMoure, and his wife, Nicole, of Wichita; ten grandchildren; numerous great-grandchildren.
Bill was preceded in death by his parents, his brothers, Jack, Dean, Wendell, and Bob DeMoure, and a great-granddaughter.
Funeral services will be at 11 a.m., Thursday at the National Cemetery in Fort Scott, Kansas with Pastor Mike Buckamneer officiating.  Friends are asked to meet at the cemetery.
Services are under the direction of the Smith-Carson-Wall Funeral Home in Girard.
Condolences may be sent to www.wallfuneralservices.com