Obituary: Verlene Maree Ringgenberg
Dr. Verlene Maree Ringgenberg, PhD
7/21/1940-7/11/2018
Born in Rogers, Arkansas, Verlene was adopted by Frank and Ethel Zedrick of Girard, KS.  She was soon joined by sister Carole Zedrick and brother Mike Zedrick.  After graduation from Girard High School, Verlene attended Pittsburg State University where she graduated with a degree in Physical Education.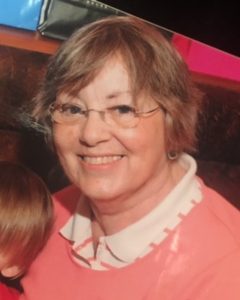 While at Pittsburg State, she met and married football player Archie Charles Ringgenberg of Haysville, Kansas.  Arch and Verlene adopted two boys Russ Ryan and Michael Ryan and settled in Manhattan, Kansas.
Verlene pursued her education at Kansas State University and eventually became the Dean of Continuing Education at Arkansas State University.  While at ASU, she completed her doctoral degree.
Verlene is survived by son Russ Ringgenberg and his wife Tammy of Cushing, Oklahoma; son Mike Ringgenberg and his wife Janelle of Lee's Summit, Missouri; grandchildren Rachel Strain and her husband Rhett, Austin Jobes, Walker Jobes, Ryan, Avery and Nate Ringgenberg and great grandson Rhett Joseph Strain.
She is also survived by sister Carole Glascow of Houston, Texas, sister Deana Hawkins of Canyonville, Oregon, nephew Dennis Zedrick and his family of Dallas, Texas, niece Ann Maree Roberts and her family of Inman, Kansas.  Also family and friends in SE Kansas, Jonesboro, Arkansas and Manhattan, Kansas.
She is proceeded in death by parents Frank and Ethel Zedrick, brother Mike Zedrick and sister Linda Warner.
In lieu of flowers, donations can be made to Girl Scouts of America   http://www.girlscouts.org/
Arrangements have been entrusted to the care of Palmer Marler Funeral Home.