Obituary: Therese Rose (Westhoff) Koester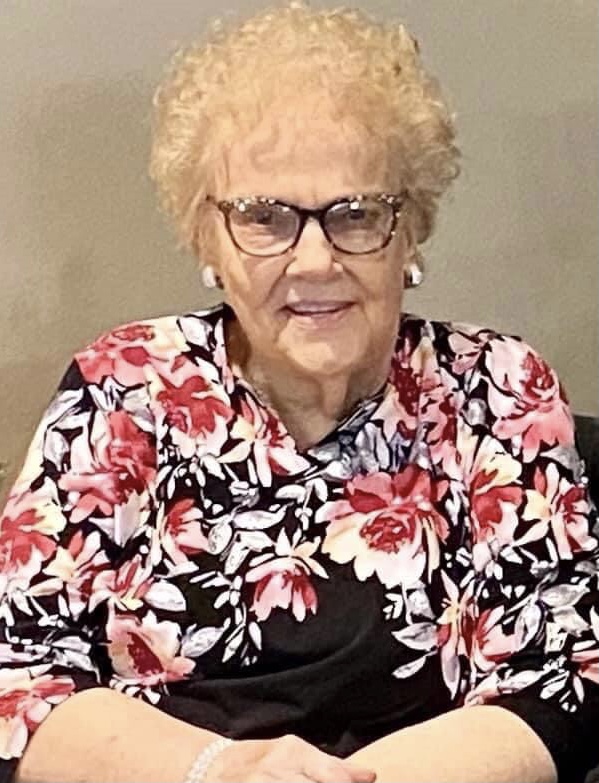 Therese Rose (Westhoff) Koester, age 92, of Joplin, Missouri, passed away peacefully surrounded by family on April 19, 2023 at the KU Medical Center in Kansas City, Kansas. She was born December 9, 1930 in Greenbush, Kansas to Charles and Clemence Westhoff, the 11th of 12 children. Therese grew up in the Greenbush/St. Paul area and graduated from St. Paul High School. She married Ed Koester in 1952 and settled in Joplin in 1966. Therese was a loving wife, mother, grandmother, great grandmother, great-great grandmother, sister, aunt, and friend who dedicated her life caring for others – she was a mother to everyone and her family was her greatest joy.
Therese is survived by her children, Gene Koester (Nancy) of Joplin, MO, Dave Koester of Edmond, OK, Debbie Lovell of Erie, KS, Brenda Bever (Joe) of Kansas City, KS, Chris Koester (Christi) of Joplin, MO, and Jennifer Duncan (Russell) of Goodman, MO; her grandchildren, Jessica Denton (Shawn), Natalie Mosley (Josh), Andrea Gautreaux(Josh), Stephanie Gibson (Cody), April Hulen, Doug Arnold, Jr. (April), Trey Lovell (Malorie), Travis Lovell (Elizabeth), Erica Bever (Adam), Lauren Bever (Tracy), Cassy Trammel (Evan), Hunter Koester, Hailey Koester, Cody Duncan (Ronna), and Jason Duncan; her extended grandchildren Gannon and Blake Ewing; her great grandchildren, Emily, Ryan, Jaxon, Piper, Charlotte, Kate, Bristol, London, Austin, Triton, Tawny, Tasha, Taylor, Tori, Cooper, Conner, Charlee, Chandler, Landon, Lenna, Nathan, Amelia, Cohen, Benny, Cameron, Daniel and Cole; her great-great grandchildren, Andrew, Rylee, Declan, Marlowe, Norah, and Matthew; and many nieces and nephews.
She was preceded in death by her husband, Ed, her parents, Charles and Clemence Westhoff, her brothers and sisters, Sarah Westhoff, Johnny Westhoff, Ed Westhoff, Vess Westhoff, Bernard Westhoff, Otis Westhoff, Marie Hayden, Barb Born, Leonard Westhoff, Louise Kennedy and Cecilia Mae Ohs, her son-in-law Skip Lovell and her grandson, Jason Arnold.
Visitation will be held on Wednesday, April 26 from 6:00 pm to 8:00 pm at Parker Mortuary, 1502 S. Joplin Ave., Joplin, MO.
Memorial Services will be held Thursday, April 27 at 10:30 am at St. Rose of Lima Catholic Church, 115 W. Walnut, Columbus, KS. Burial will be at Mt. Hope Cemetery, 3700 N. Rangeline Rd, Webb City, MO.
In lieu of flowers, the family requests that donations be made in her memory to St. Jude Children's Research Hospital online at www.stjude.org/donate or by mail at 501 St. Jude Place, Memphis, TN 38105.