Obituary: Russell Matthews Duff
Russell Matthews Duff, 95, of Pittsburg, Kansas, died at 9:10 p.m. on Feb. 14, 2015, in Girard, Kansas.
He was born Nov. 6, 1919, to James G. Duff Sr. and Maria Matthews Duff on the family farm near Weir, Kansas. He graduated from Crawford High School in Cherokee in 1936 and then attended Accounting Courtney Business College in Pittsburg.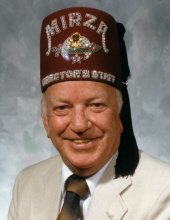 During World War II Mr. Duff served in the U. S. Army Air Corps in the 344th Base Unit from March 1942 to November 1945 as a technical sergeant, performing the work of a sergeant major, and was awarded marksmanship badges, the American Theater Ribbon, the Good Conduct Medal, and the Victory Medal. He was honorably discharged from the service Nov. 30, 1945.
Following the war Mr. Duff owned the Palace Clothing Company on Broadway in Pittsburg and worked at McNally Pittsburg Manufacturing Corporation from June 1937 to June 1986, retiring as chief estimator of projects.
He married Aileen Delena Compton in 1948. They divorced in 1974.
He married Harriette Ellison Moran of Girard on June 20, 1978.
Mr. Duff was a charter member of Crestwood Country Club and participated in numerous Masonic and Shrine activities.
He was a member of the Pittsburg Masonic Lodge No. 187, the Knights Templar Commandery No. 29 in Pittsburg, the York Knight Chapter No. 58 in Pittsburg, and the Mirza Shrine of Pittsburg. He was awarded the 32nd Degree of the Scottish Rite in Fort Scott, Kansas.
Mr. Duff was a former member of The Legion of Honor, The Red Cross of Constantine, and The Royal Order of Jesters.
In addition, he was a member of the Director's Staff and for more than 20 years served as recorder of the Crispus Conclave in Pittsburg.
For 65 years, Mr. Duff participated in the Masonic Fraternity, and for more than 60 years he was a member of the Benjamin A. Fuller Post No. 64, American Legion of Pittsburg.
Mr. Duff loved to garden and enjoyed his wife's wonderful cooking, and together they enjoyed dancing, participating in various Shrine activities, traveling and "Happy Hour." She preceded him in death on March 2, 2014.
Mr. Duff is survived by his stepdaughters, Mary Jane Dent and Barbara Mahnken, and sons-in-law, Jack Dent and Gary Mahnken, of Girard.
Other survivors include his grandchildren and their spouses: Jacqueline Dent Sisk of Pittsburg; Mark and Kristina Dent of Mulberry; Zachary Dent of Girard; Matthew and Brooke Mahnken of Bel Aire, Kansas; Drew and Ashley Mahnken of Girard; and Nathan Mahnken of Girard.
His great grandchildren include Brennan and Adam Dent and Macy, Blaine and Ellie Mahnken.
Additional survivors include his nephew Jim Duff and wife Beverly of Michigan and their family.
Mr. Duff was preceded in death by his parents; his sister Mildred Harrison, his twin sisters Hazel Vietti and Louise Bartoletti, and his brother James G. Duff Jr.
He will be remembered by those whom his life touched.
The family would like to thank Healing Hands Caring Hearts for their care, which helped Mr. Duff remain at home until his recent decline.
Funeral services will be at 10:30 a.m. Saturday, Feb. 21, at the Smith-Carson-Wall Funeral Home in Girard with Pastor Rick Prideaux officiating.
The family will receive friends immediately following the service.
Burial will be in the Girard Cemetery with Military Honors given by the Benjamin A. Fuller Post No. 64, American Legion of Pittsburg.
Memorial contributions may be made to the Mirza Shrine Children's Transportation Fund or Harry Hynes Memorial Hospice, and these may be left at the Smith-Carson-Wall Funeral Home, 518 W St. John, Box 258, Girard, 66743 where friends may call after 9:00 a.m. Friday.
Condolences may be sent to www.wallfuneralservices.com.