Obituary: Roger Reed
Roger Reed, 62, of Mulberry, Kansas passed away at 5:48 p.m., Friday, July 19, 2019 at the Girard Medical Center, surrounded by his loving family and friends.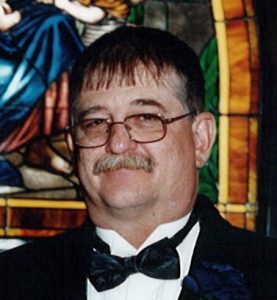 He was born September 8, 1956 in Lynwood, California, a son of Leonard and Violet (Whitter) Reed.
Roger attended school in Frontenac, Kansas; graduating from Frontenac High School. He attended P.S.U. where he studied mechanics.
Roger and Norma Shull were united in marriage in Pittsburg, Kansas on September 3, 1976, they later divorced.
Roger was employed with the City of Pittsburg, Altec Braking, SEK-CAP Inc., and Union 311 of Joplin.
He enjoyed spending time with his family, fishing, drag racing, hunting and welding.
He served in the United States Army from 1976 thru 1979
Roger was a member of Open Door Mission in Arcadia, Kansas.
Survivors include, two sons; Travis Reed and his wife Ronnah of Lamar, Missouri, Ethan Reed and his wife Ashlyn of Lawrence, Kansas, two daughters; Brandy Hencey and her husband Justin of Arcadia, Jamie Tyler and her husband Eric of Girard; five grandchildren; Dexter, Taylor, Blake, Avery, Holly, two brothers; Chuck Reed of Frontenac, Carl Reed of Arma, two sisters; Mary Hubbard and Vickie Reed both of Pittsburg.
He was preceded in death by his parent's, one brother, Paul Reed.
Services for Roger Reed will be 9 a.m., Friday, July 26 at the Smith-Carson-Wall Funeral Home of Girard; burial will follow in the National Cemetery in Fort Scott.
Visitation will be Thursday July 25 from 6 p.m. until 8 p.m., at the funeral home; friends are invited to call at the Funeral Home after 2 p.m. Thursday.
In lieu of flowers memorials are suggested to family wishes and these may be left at the funeral home or mailed to the Smith-Carson-Wall Funeral Home, 518 W. St. John P.O. Box 258, Girard, Kansas 66743.
Condolences may be sent to www.wallfuneralservices.com