A memorable night with Gordon Parks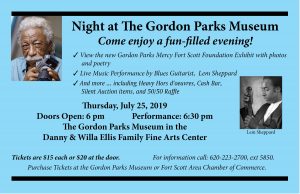 The Gordon Parks Museum has been such an inspiring addition to Fort Scott Community College and the community. Recently, the Gordon Parks Museum has graciously obtained new additions to the museum from the Mercy Fort Scott Foundation. The new additions will be revealed at the "Night at The Gordon Parks Museum" event on July 25th.
"This fundraiser event will be a very fun evening with great opportunity to see the grand viewing of our newest addition to the museum, the Gordon Parks collections from the Mercy-Fort Scott Foundation Board. Event participants will also be able to enjoy some great music from Blues Guitarist, Lem Sheppard as he will be performing throughout the night. We will have some great silent auctions items and a 50/50 raffle. This fundraiser event is a great way to help support one of our unique treasures we have in our community, the Gordon Parks Museum." said Kirk Sharp, Executive Director of the Gordon Parks Museum.
Doors will open for the event at 6 p.m. Thursday night and Lem Sheppard will begin to perform at 6:30 p.m. Heavy hors derves will be served and a cash bar will be available. Tickets to the event will be $15 prior to the event that can be purchased at the museum. Tickets will then be $20 at the door the night of the event.
For more information, please contact Kirk Sharp at 620.223.2700 ext. 5850 or email him at kirks@fortscott.edu. You can also follow the museum on Facebook.