Obituary: Eugene "Gene" Carl Larsen
Eugene "Gene" Carl Larsen, 83, of McCune, died at 5:00 a.m., Saturday, May 25, 2019 at home in Murrieta, California where he was living with his daughter and her family.
He was born, November 23, 1935 in Missouri, a son of Carl and Katherine Larsen. Eugene grew up in the Kansas City area and became a pipe fitter.
Eugene married Patricia McClintick on December 27th, 1968 in Miami, Oklahoma.  Patricia precedes him in death. He has two daughters, Stephanie Kennedy of Murrieta, California and Carla Sokal of Bloomington, Illinois. He has 5 grand children and several great grand children.
He worked as a pipe fitter for the Local Union 533 out of Kansas City for 40 years and has been a member for 64 years.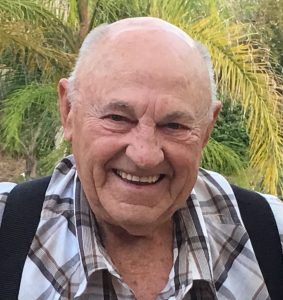 After retirement in 1995 Eugene and Patricia moved to Indiana for 6 years.  Then moved to California in 2001 and then returned to the McCune area in 2009.  After health problems in 2017 he moved back to California to stay with his daughter and her family.
Eugene enjoyed visiting with family and friends, being on the farm, and watching NASCAR.
Burial will be July 27, 2019 at 11:00 a.m. at the St. Aloysius Cemetery at Greenbush with Fr. Floyd McKinney as Celebrant.
In Lieu of flowers, memorials are suggested to the National Kidney Foundation and these may be left at the Smith-Carson-Wall Funeral Home, 518 W St. John, Box 258, Girard, 66743.
Condolences may be sent to www.wallfuneralservices.com