Obituary: Ollie M. McClelland
Ollie M. McClelland, 82, of Girard, died at 10:15 a.m., Saturday, August 15, 2015 in the Medicalodge in Girard.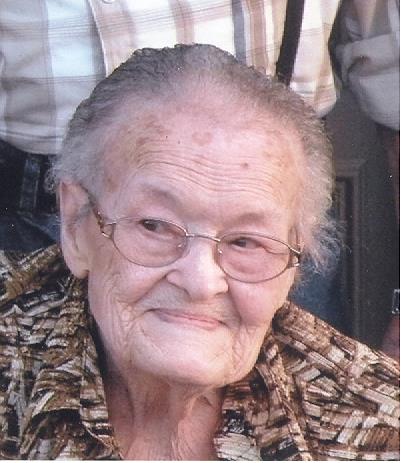 Ollie was born October 13, 1932 in Garland, Kansas a daughter of Archie and Mabel (McReynolds) Simons.
She married Kenneth Ray McClelland on November 18, 1954 in Fort Scott.  He preceded her in death on June 11, 1979.
Ollie and Kenneth lived in various states as Kenneth was serving in the US Army.  They retired to Girard in 1970.
She worked with her sister, Neomia McClelland, as a cook, at the Hiway Inn in Girard before retiring in 1996 to help raise her grandsons.
Ollie enjoyed her grandchildren, fishing, All Star Wrestling, and Nascar Racing.
She was a member of the Southern Baptist Church in Columbus and the Kansas Coyotes C.B. Club.
Survivors include a daughter, Mary McClelland of Girard; a son, Edward McClelland, and his wife, Crystal, of Girard; grandchildren Kenny McClelland, Jon McClelland, and Katie McClelland; a brother, Archie C. Simons of Walnut; a sister, Beulah Brumback of Girard.
She was preceded in death by an infant son, Clarence Douglas McClelland; a brother, Bill Simons; sisters Geneva Dighero, Lorrine Vasquez-Culp, Neomia McClelland, and Helen Mayberry.
Funeral Services will be at 10:00 a.m., Wednesday at the National Cemetery in Fort Scott with Pastor Rick Prideaux officiating.  Burial will follow the services.
The family will receive friends from 7:00 until 8:00 p.m., Tuesday at the Smith-Carson-Wall Funeral Home in Girard where friends may call after 2:00 p.m., Tuesday.
Memorials are suggested to "Meals on Wheels" and these may be left at the Smith-Carson-Wall Funeral Home, 518 W St. John, Box 258, Girard, 66743.
Condolences may be sent to www.wallfuneral services.com.