Obituary: Phyllis A. Giefer
Phyllis A. Giefer, 79, of Erie, died at 2:19 A.M., Wednesday, August 19, 2015 at Via Christi Hospital in Pittsburg.
She was born May 1, 1936 at St. Paul, a daughter of Frank Vernon and Nettie Lottie (Steinburg) Nesbitt. She was raised in the rural St. Paul and Erie area and attended rural schools. She later moved to Erie where she owned and operated the Pin Cushion Sewing Shop for many years. She then was employed at the Neosho County Sheriff's Office and worked in food service. She retired June 1, 2001.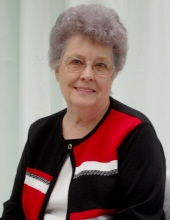 On October 16, 1954 she was united in marriage to William E. "Bill" Giefer. They later divorced and he preceded her in death on October 25, 2009.
She was member of the First Baptist Church at Erie. She enjoyed sewing, cooking, teaching Bible school and children's church, music and singing. She also enjoyed spending time with family and planting flowers.
Survivors include: two daughters – Terri Thurman, and her husband, Dan, Erie, Kansas; Lori Nally, Erie, Kansas; four grandchildren – Tasha Thurman, Erie, Kansas; Megan Sodamann, and her husband, Ryan, Pittsburg, Kansas; Derek Nally, Erie, Kansas; Garet Nally, Clearwater, Florida; three great-grandchildren; One sister – Carolyn Christmas, Erie, Kansas. She was preceded in death by two brothers and three sisters.
Funeral services will be held at 2:00 P.M., Friday, August 21, 2015 at the First Baptist Church at Erie with Reverend Danny Flippo officiating. Burial will be in the East Hill Cemetery. The family will receive friends from 6:00 until 8:00 P.M., Thursday at the PIERCE-CARSON-WALL FUNERAL HOME at Erie. Memorials are suggested to the First Baptist Church and may be left at or mailed to the funeral home, P.O. Box 182, Erie, KS 66733. Online condolences may be left at www.wallfuneralservices.com.