Obituary: Maxine O. Filkel
Maxine O. Filkel, 90, of rural Girard, died at 1:34 p.m., Monday, June 17, 2019 in the Oakview Estates in Frontenac.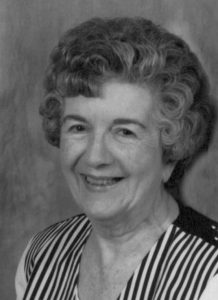 Maxine was born May 27, 1929 in Bourbon County, the daughter of Arbie and Louise (Grimes) Baker.
She married Charles Wayne Filkel on May 27, 1950 in Girard.  Charles preceded her in death on September 12, 2008.
Maxine was a homemaker and she and Wayne were lifelong farmers at rural Girard from 1943 until 2008.
Maxine enjoyed flowers and gardening.
She is survived by a daughter and son-in-law, Janet Filkel and Stephen Van Scyoc, of Leawood, Kansas.
Maxine was preceded in death by her sons, C. Wesley Filkel, on October 5, 2009, and Kelly Wayne Filkel, on August 18, 2017 and by a brother Walter Baker, in 1965.
Graveside services will be at 10:30 a.m., Friday at the Girard Cemetery with Pastor Mark Wenzelburger officiating.  Friends are asked to meet at the cemetery.
The family will receive friends from 6:00 until 8:00 p.m., Thursday at the Smith-Carson-Wall Funeral Home in Girard where friends may call after 2:00 p.m., Thursday.
Memorials are suggested to Crawford County Humane Society and these may be left at the Smith-Carson-Wall Funeral Home, 518 W St. John, Box 258, Girard, 66743.
Condolences may be sent to www.wallfuneralservices.com