Obituary: Crystal V. Larmer
Crystal V. Larmer, age 75, of Girard, Kansas, passed away on Sunday, June 23, 2019 at the Memorial Hermann Texas Medical Center in Houston, Texas.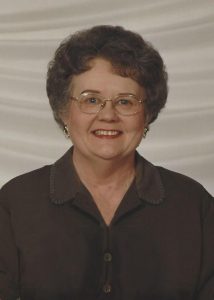 She was born September 30, 1943 in Girard to Francis and Leona (Vogts) Kavanagh and was the youngest of four children.  Crystal attended Salem Grade School through the eighth grade and graduated from Girard High School.  She married William "Bill" I. Larmer, Jr. on January 7, 1967 at Trinity Lutheran Church in Girard.
Crystal was a lifelong resident of Girard and a longtime employee of the Crawford County Abstract Office, from which she retired in December of 2006.
She was a member of the Trinity Lutheran Church in Girard. Crystal was known for her sweet, fun-loving nature and kind heart. She adored her family and loved cooking for them. She enjoyed books, games, jigsaw puzzles, everything Elvis, the occasional casino adventure, and DESSERTS.
Survivors include Bill, her husband of 52 years, of the home, a son, Jared Larmer of Pittsburg; her daughters, Jackie Iram, and her husband, Matt, of Springfield, Missouri, Jenna Mikrut, and her husband, Kevin, of Girard, Janelle Corbit, and her husband, Chris, of Olathe; her grandchildren, Janessa, Jayden, and Luke Larmer, Andrew and Ella Iram, Jason and Cole Mikrut; a brother, William "Bill" Kavanagh of Pittsburg, a sister, Marilyn Bradshaw of Girard.
Crystal was preceded in death by her parents and a brother, Merle Kavanagh.
Funeral services will be at 10:30 a.m., Saturday at the Trinity Lutheran Church in Girard with Pastor Mark Wenzelburger officiating. Burial will be in the Girard Cemetery.
The family will receive friends from 5:00 until 7:00 p.m., Friday at the Smith-Carson -Wall Funeral Home in Girard where friends may call after 2:00 p.m., Friday.
Memorials are suggested to the Trinity Lutheran Church and these may be left at the church or the Smith-Carson-Wall Funeral Home, 518 W St. John, Box 258, Girard, 66743.
Condolences may be sent to www.wallfuneralservices.com