Celebrate the 4th with area firework displays and events
Girard:
Monday, July 1, at the Crawford County Fairgrounds. Festivities begin at 6 p.m. with bounce houses being open until dark at a cost of $10 per wristband. The vendor area will also open at 6 p.m. with food vendors, face painting, and more including homemade ice cream from the Girard FFA Alumni. The Wutke Family will also be having a free watermelon feed beginning at 6 p.m. Live music from BJ Pruitt and the Barn Stormers will be held from 6:30 p.m. to 9:30 p.m. with the fireworks display beginning at 9:30 p.m.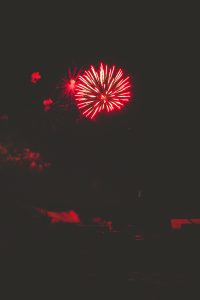 Farlington:
An Old Fashioned Independence celebration will once again be held at Crawford State Park on July 2, but this year it will look a little different to those who have been before. The event goes on rain or shine, and since sitting in the rain or baking in the sun is never fun, Crawford State Park Manager Dave Goble said this year a few changes have been made to improve the experience.
"We're moving over to the beach area with the live entertainment, and the cookout will be out of the shelter house this year," Goble said. "Plus, we'll have a large tent."
The normal gate fee will apply – a $5 entry fee per vehicle or no fee if you already have your annual vehicle permit/park passport.
In addition to Lake View Café, the Friends of Crawford State Park will have a cookout based in the shelter house that overlooks the beach. A large tent will be put up for people to sit under and eat.
"The Friends group does a really nice cookout that helps pay for the fireworks – very good hamburgers and food of that nature," Goble said. "It will be shaded and cool – we're taking them out of the sun."
Activities begin at 5 p.m. Performing later in the evening is Dan Duling and Stone Country, who will perform from a stage that will be set up by the beach shelter house.
Hepler:
Wednesday, July 3 and Thursday, July 4, the Hepler Ruritan is hosting the 49th Annual Club Rodeo. July 3rd will be the URA, MRCA, and Open Rodeo at 8 p.m. with a dance to follow from 10 p.m. to 1 p.m. featuring the live band the Barnstormers. July 4th the celebration begins at 11 a.m. with the parade sponsored by the Hepler 4-H Club with the theme of "There's no place like Hepler." Kids games begin at 1:30 p.m followed by the Hillbilly games at 2 p.m. The rodeo will begin at 8 p.m. with fireworks to follow. Admission is $10 for adults and $5 for kids. July 4th is Family Night with a cost of 2 adults and 2 kids for $25. Mutton Bustin and a Calf Scramble will be held both nights.
Prairie Mission Retirement Village:
Wednesday, July 3, Prairie Mission Retirement Village is hosting fireworks for the community with vendors setting up at 5 p.m. and entertainment starting at 7 p.m. with Mojo Snow Cones, the Popcorn Guy and more. Fireworks to follow at 9 p.m.
Mulberry:
The City of Mulberry will have it's annual Independence Day celebration Wednesday July 3rd at the ball park on North Military.  The FREE  giant water slide and giant slip and slide will begin at 4 p.m. and go till 8 p.m. The Homecoming will be selling drinks, chips, and candy. Tropical Sno will also be available for sale.  Free hot dogs and watermelon will be served at 7 p.m. There will be a DJ, 50/50 drawing, volleyball, and cornhole board set up for those who wish to play. Fireworks will be at dark, between 9:30 and 10 p.m.
Osage-Hills- St. Paul:
Saturday, July 6, Osage Hills Country Club in St. Paul is hosting an Independence Day Celebration for members and guests. There will be a cornhole tournament with signup at 3:30 p.m. and beginning at 4 p.m. The cost is $40 per team. There will also be a chicken buffet from 5-8 p.m. The pool will be open from 1-7 p.m. and there will be kid's games. Fireworks will begin at dusk.