Obituary: Mark Loy
Mark Loy, 63, of Pittsburg, passed away at 12:47 p.m., Wednesday, August 8, 2018, at his residence.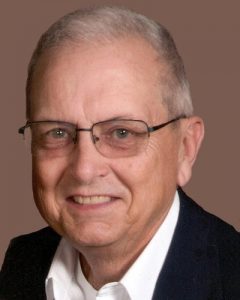 He was born October 24, 1954, in Pittsburg, KS, the son of Mike and Shirley (Pierce) Loy.  He attended local schools and went on to graduate from Pittsburg State University.
On June 17, 1978, he was united in marriage to Denise Bolinger at the Our Lady of Lourdes Catholic Church in Pittsburg.  She survives of the home.
Mr. Loy was an accountant and owned and operated ML and Co.
Membership was held in the Our Lady of Lourdes Catholic Church, Pittsburg.
In addition to his wife, he is survived by three daughters, Michelle Peak (Shane) of Pittsburg, Elizabeth Loy (Chalcea) of Pittsburg, and Kristina Loy of Springfield, MO, one brother, Michael Loy of Frontenac, KS, and four grandchildren, Rowan Peak, Landyn Peak, Wesley Loy and Graham Loy.
He is preceded in death by his parents.
Mass of Christian burial is set for 2:00 p.m., Monday, August 13, 2018, at the Sacred Heart Catholic Church, Frontenac, with Father Robert McElwee as Celebrant.  Burial will follow in the Highland Park Cemetery, Pittsburg.  A Parish Rosary will be prayed at 6:00 p.m., Sunday, August 12, at the Brenner Mortuary, Pittsburg.  The family will receive friends following the Rosary until 7:30 p.m.
The family suggests memorials to the KU Endowment to benefit Head and Neck Cancer Research.  Online contributions may be made at www.kuendowment.org/give.  Please indicate that donations are for the Mark Loy memorial.  These may be left at or mailed to the Brenner Mortuary, 114 E. 4th St, Pittsburg, KS 66762.  Friends may leave condolences online at www.brennermortuary.com.  Arrangements are under the direction of the Brenner Mortuary.