Obituary: Hunter Dean Kovacic
Hunter Dean Kovacic, 15, of Stark, Kansas, died at 10:12 a.m., Wednesday, August 8, 2018 as a result of injuries sustained in an automobile accident on Highway 69 in Bourbon County, Kansas.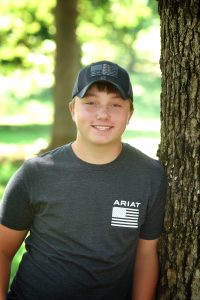 Hunter was born July 9, 2003 in Fort Scott, Kansas, a son of Jeffrey and Jennifer (Jamison) Kovacic.
Hunter was ready to start his sophomore school year at Erie High School in Erie, Kansas where he participated in football, basketball, and baseball.
Hunter was cherished by his family and very loyal to all his friends.  He enjoyed archery, hunting, fishing, anything with a gas pedal, and anything with a trigger.
He was a member of the Galesburg Christian Church in Galesburg, Kansas, 4-H, Future Farmers of America, and the EHS W.I.L.D. Trap Shooters Team.
Survivors are his father, Jeff Kovacic, and his wife, Donna, of Stark; his mother, Jennifer Kovacic, of Fort Scott; his brothers, Kodi Gillen and Jake Gillen, of Fort Scott; his grandparents, Mary Ann Jamison, Ernest and Janet Kovacic, and Dixie and Chris Golay.
Hunter was preceded in death by his grandfather, Gene Jamison, and a nephew, Kynden Gillen.
Funeral services will be at 2 p.m., Sunday, August 12, at the Erie High School with Pastor Jim Frech officiating.  Burial will be in Mt. Moriah Cemetery near Stark.
The family will receive friends from 4 p.m. until 7 p.m., Saturday at the Erie High School.
Memorials are suggested to the Erie FFA and EHS W.I.L.D. Trap Shooting Team and these may be left at the school or the Pierce-Carson-Wall Funeral Home, 113 S Main Street, Box 182, Erie, 66733.
Condolences may be sent to www.wallfuneralservices.com