Obituary: Lois A. Brown
Lois A. Brown, 84, of Girard, died at 6:45 p.m., Saturday, November 2, 2019 at the Country Place Memory Care in Fort Scott, Kansas.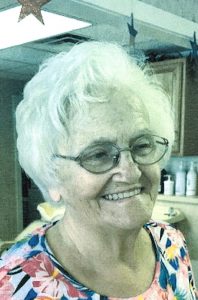 Lois was born June 14, 1935 in Barton County, Missouri, a daughter of George H. and Gertrude A. (Askins) Howard.
Lois married Johnnie G. Brown on September 17, 1951 in Mena, Arkansas.  Johnnie preceded her in death on April 25, 2004.
She and her husband owned and operated a Grade A dairy farm in Cherokee County where they also were farmers.  They moved to the Girard area where they owned and operated Brown's Tastee Freez from 1965 until 1971.  They owned and operated Brown's Bakery in Girard from 1971 until 1984 before moving to a farm south of Girard in 1991 and moving to Girard in 2004.  Lois and Johnnie were owners of the JLB Fencing. She worked along side Johnnie with the fencing and cattle business.
Survivors are her sons, Johnnie G. Brown, Jr., and his wife Doreen of Girard and Ronald G. Brown of South Radley; her daughter, Becky Cobb, and her husband Joe, of Girard; her grandchildren Casey Brown and wife Amber of Arma, Lindsay Pitts and husband Bryan of Arma, Jenna Vitt and husband Jason of South Radley, Cooper Brown of South Radley, Jace Cobb and wife Jessica of Pittsburg, Brandy Hyero and husband David of Leavenworth, Ks.; her sister Madaline Deakin of Coupeville, Washington, seven great-grandchildren and numerous Nieces, Nephews and Cousins.
Lois was preceded in death by her parents, her husband, six brothers, Andrew, Elmer, Melvin, Johnnie Lee, George Franklin, Bill; two sisters, her twin sister Louise Trisler, and sister, Jahunieta Lara, and one daughter -in-law, Tina Brown.
Funeral services will be at 10:30 a.m., Wednesday at the Smith-Carson-Wall Funeral Home of Girard, Kansas with Pastor Rick Prideaux officiating.  Burial will be in the Girard Cemetery.
The family will receive friends from 6:00 until 8:00 p.m., Tuesday at the Smith-Carson-Wall Funeral Home where friends may call after 2:00 p.m., Tuesday.
In lieu of flowers, memorials are suggested to Harry Hynes Hospice or Angels Among Us and these may be left at the funeral home or mailed to the Smith-Carson-Wall Funeral home, 518 W St. John, box 258, Girard, 66743.
Condolences may be sent to www.wallfuneralservices.com