Obituary: Jack Modica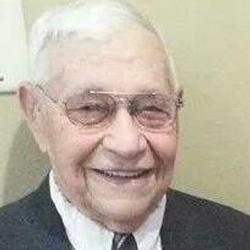 He was born on December 27, 1926 in Englevale, Kansas to Joe Modica and Maggie (Marchello) Modica. He grew up in Crawford County and graduated from Hepler High School in Hepler, Kansas. He then joined the United States Army Air Corps and served during World War II in the Philippine Theatre. Following his discharge he returned to Walnut and farmed and ranched. He also worked as an oil well driller for thirty years.
He and Pearl M. Shively were married on April 12, 1950 at St. Patrick's Catholic Church in Walnut. She preceded him in death on May 1, 2011.
Mr. Modica was a member of the former St. Patrick's Catholic Church in Walnut, and currently a member of St. Ambrose Catholic Church in Erie. He was also a member of the American Legion Post #292 of Walnut and was a charter member of the Ruritan Club. Mr. Modica served in every office on the local and district level in the Ruritan Club. He served as a project leader and community leader in the Walnut Wonder Workers 4-H club. He also enjoyed hunting with his family and friends. He and Pearl enjoyed spending time at their lake house with their grandchildren.
Survivors: One Son:
William J. "Bill" Modica and his wife Lorinda Beaumont, Texas
Three Daughters:
Margaret L. "Maggi" Modica Dallas, Texas
Shirley A. Johnson and her husband Ken Parsons, Kansas
Carolyn J. Grillot and her husband Dave Pittsburg, Kansas
Six Grandchildren – Scott Grillot, Adam Grillot and wife, Ashley; Alan Grillot, Sarah Modica, Austin Johnson and Kendra Johnson
Three Great-Grandchildren – Spencer Grillot, Robyn Grillot, and Jude Grillot
One sister: Sara Shively Caney, Kansas
In addition to his wife, he was preceded in death by three brothers.
Funeral Mass will be held at 10:00 a.m., Tuesday, December 9, 2014 at St. Patrick's Catholic Church in Walnut. Burial will be in St. Patrick's Cemetery in Walnut.
The Rosary will be prayed at 7:00 p.m., Monday, December 8, 2014 at the church. The family will receive friends at 7:30 p.m., following the Rosary in the Parish Hall.
Memorials are suggested to the St. Jude Children's Research Hospital. These may be left at or mailed to Forbes-Hoffman Funeral Home, P.O. Box 374, Parsons, KS 67357. Online condolences may be left at www.forbeshoffman.com.