Obituary: Dorothy Marie Horton
Dorothy Marie Horton, 74, of Girard, died at 5:04 a.m.,  Wednesday, July 4, 2018 in the Post Acute Specialty Hospital in Tulsa, Oklahoma.
Dorothy was born September 17, 1943 in Pittsburg, Kansas, a daughter of V. J. "Bud" and Lelia F. (Graham) LaForge.  She graduated from Girard High School before entering the US Navy in 1961.  She was a cook in the Navy, receiving her honorable discharge in 1967.
She worked at the Marina Restaurant in Farlington, Kansas from 1986 until 1990, and then she worked at Chicken Annie's Original near Pittsburg until 1999.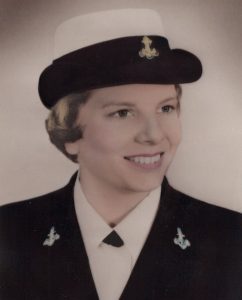 Dorothy enjoyed her family, reading, listening to music, and watching old westerns.
She was of the Catholic faith.
Dorothy was a member of the George C. Brown Post No. 26, American Legion of Girard.
Survivors are her sons, Brian Klepac, and his wife, Sheree, of Nevada, Missouri and David Klepac, and his wife, Jennifer, of Harrisonville, Missouri; her mother, of Brazilton, Kansas; five grandchildren; eleven great-grandchildren; her sister, Phyllis Cambers, and her husband, Bill, of Branson, Missouri.
Dorothy was preceded in death by her father and two great-grandchildren, Aurora Klepac and Cooper Klepac.
Funeral services will be at 10:30 a.m., Monday at the Smith-Carson-Wall Funeral Home in Girard with Fr. Floyd McKinney officiating.  Burial will be in the Girard Cemetery with military honors given by the Brown-Bishop Post No. 704, Veterans of Foreign Wars of Parsons.
The family will receive friends from 7:00 until 8:00 p.m., Sunday at the Smith-Carson-Wall Funeral Home in Girard where friends may call after 1:00 p.m., Sunday.
Memorials are suggested to the Great- Grandchildren's Education Fund, and these may be left at the Smith-Carson-Wall Funeral Home, 518 W St. John, Box 258, Girard, 66743.
Condolences may be sent to www.wallfuneralservices.com