GACF to hold Talent Show to open homecoming festivities
The Girard Area Community Foundation (GACF) is hosting a community talent show Tuesday, Sept. 24 at 6 p.m. in the GHS Shireman Auditorium. The show will consist of performers with acts ranging from singing to magic tricks.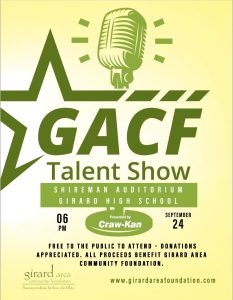 "The Talent Show is free to the public to attend but we will take donations – any and all of which are very much appreciated," said Event Coordinator and GACF trustee Zach Adams.
The purpose of the show is to kick off Girard's homecoming festivities and raise funds for GACF operations.
"Founded in 2010, the mission of the Girard Area Community Foundation is simple: To strengthen our communities both now and for future generations," said Adams. "The foundation does this by encouraging and facilitating private donations to several types of funds which it maintains and administers. As the Girard Area Community Foundation grows, grants are awarded to help fund non-profit projects that make Girard and surrounding communities an even better place to call home."
Communities benefiting from the foundation include but are not limited to Girard, Farlington, Brazilton, Hepler, Beulah, Walnut and McCune. The foundation funded approximately $41,125 to grant recipients last year and plan to fund at least this amount in 2020.
The foundation would like to welcome to this special night and to "show your support for the foundation and our communities by coming out and enjoying the show!"