When the ground is wet, take to the skies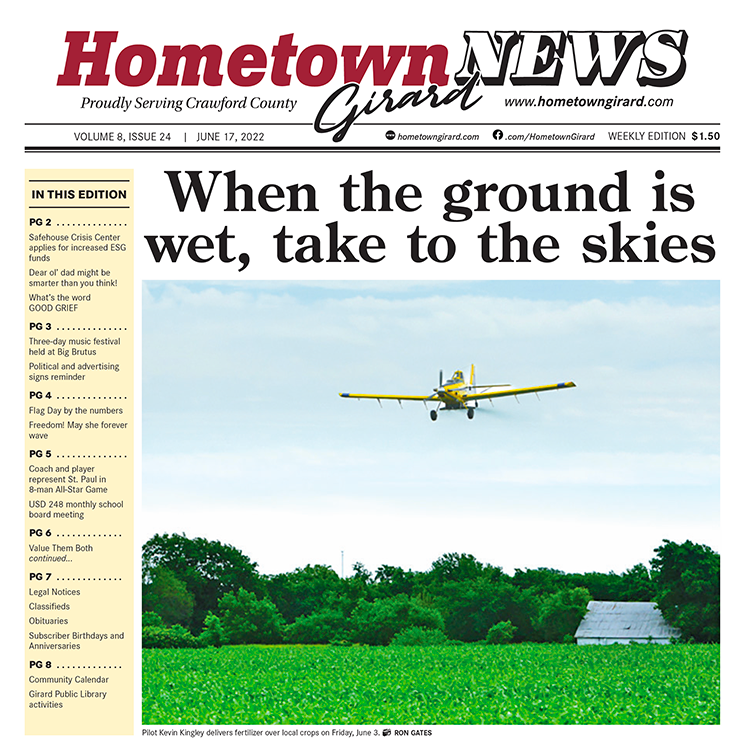 BY RON GATES
HOMETOWN GIRARD
If you've been driving around the countryside recently, you have probably seen some yellow airplanes crop dusting over farm ground around Girard. I'm told that the term "crop dusting" is an old term. Now, they are known as "aerial applicators."
Over the last two weeks, there have been at least two different companies working for farmers around Girard. One is Kevin Kingsley, who flies out of Lamar, Missouri. The other is Midland Flyers, a company with five planes that flies out of Miami, Oklahoma. Both are working with Producers Coop in Girard.
On June 4th, Kingsley brought his AirTractor 402 to the Pittsburg airport where he met Kyle Wiles, the agronomy division manager for Producers Coop. "In a scenario like this where it's wet and the corn is at a stage where it needs a top dress of nitrogen," says Wiles. "And it's too wet to get a ground rig into the field, these airplanes come in and spread a urea fertilizer." Wiles adds that ground rigs could probably do a faster job of spreading fertilizer than the planes but when the corn needs fertilizer it can't wait until the ground is dry.
Kevin Kingsley used to watch a crop duster come in and spray his fields, and he thought it looked like an interesting job. His older brother learned to fly and he taught Kevin. He works in Cherokee and Crawford counties in Kansas but does most of his work in Barton County, Missouri.
Over the past weekend, Donnie, Ronnie and Mike Oplotnik (Girard), ordered two semi loads of fertilizer through Producers Coop. They picked it up from a barge at the Port of Catoosa in Oklahoma. The Midland Flyers brought in an AirTractor and a Thrush airplane from Miami to spread urea over their corn. Both of these planes are designed ­specifically to be used in aerial applications. Kingsley's plane is a little smaller than the planes from Midland Flyers, and it doesn't fly as far from the airport, but it's almost impossible to tell the difference when you see them fly over.
The fertilizer is moved by auger from the semi to a seed tender. From there it's moved by a different auger to the hopper located in front of the pilot. The Midland Flyers hopper holds 5,000 lbs. of fertilizer.
Ronnie Oplotnik says they fertilize every year, "but this year it's been so wet we can't get a ground rig in the field and the work needs to be done now! It's not going to do any good to put it on late."
Midland Flyers owner, Greg Epperson, says they are like a 9-1-1 service. Farmers would prefer to use a ground rig because it's less expensive, but when it's too wet, then aerial applications are the only answer. Epperson says he's been spraying for 42 years but the company is nearly 60 years old. He bought out his former boss about 27 years ago.
Randy Wyrick is the chief pilot for Midland Flyers. "I learned to fly at Oklahoma State. Then I had to go to a separate training in Louisiana to be licensed to fly for aerial applicators."
Later, when the corn reaches 4-8 feet tall, it'll be too tall to use a ground rig and the only choice is to take to the skies again, either bringing the fixed wing planes back or they'll have helicopters spread the fungicide and insecticide.