Victory Life Church begins construction for new childcare facility and autism clinic
By Leslie Montee
Hometown Girard
On December 9, 2022, Integrated Behavior Technologies, Inc. (IBT) celebrated the upcoming opening of their SEK Clinic with a groundbreaking ceremony, on location in Pittsburg, Kansas. The clinic, in conjunction with the new Sonshine Child Care Facility, will both be located at Victory Life Church, 681 S Highway 69, Pittsburg, Kansas.
IBT specializes in providing autism treatment and intervention services to children and their families, particularly to support those who live in rural areas, where an estimated 48% of Kansans live. "Since 2014 we have talked about opening a brick-and-mortar structure in the area with the identification of a site as a part of our five-year plan" said IBT Founder and Executive Director Linda Heitzman-Powell. "Not only is this a site where families can enroll their children for evidence-based treatment, this is a facility that is specifically designed to address the needs of children with autism and their families from age of first diagnosis until they transition into adulthood," she said.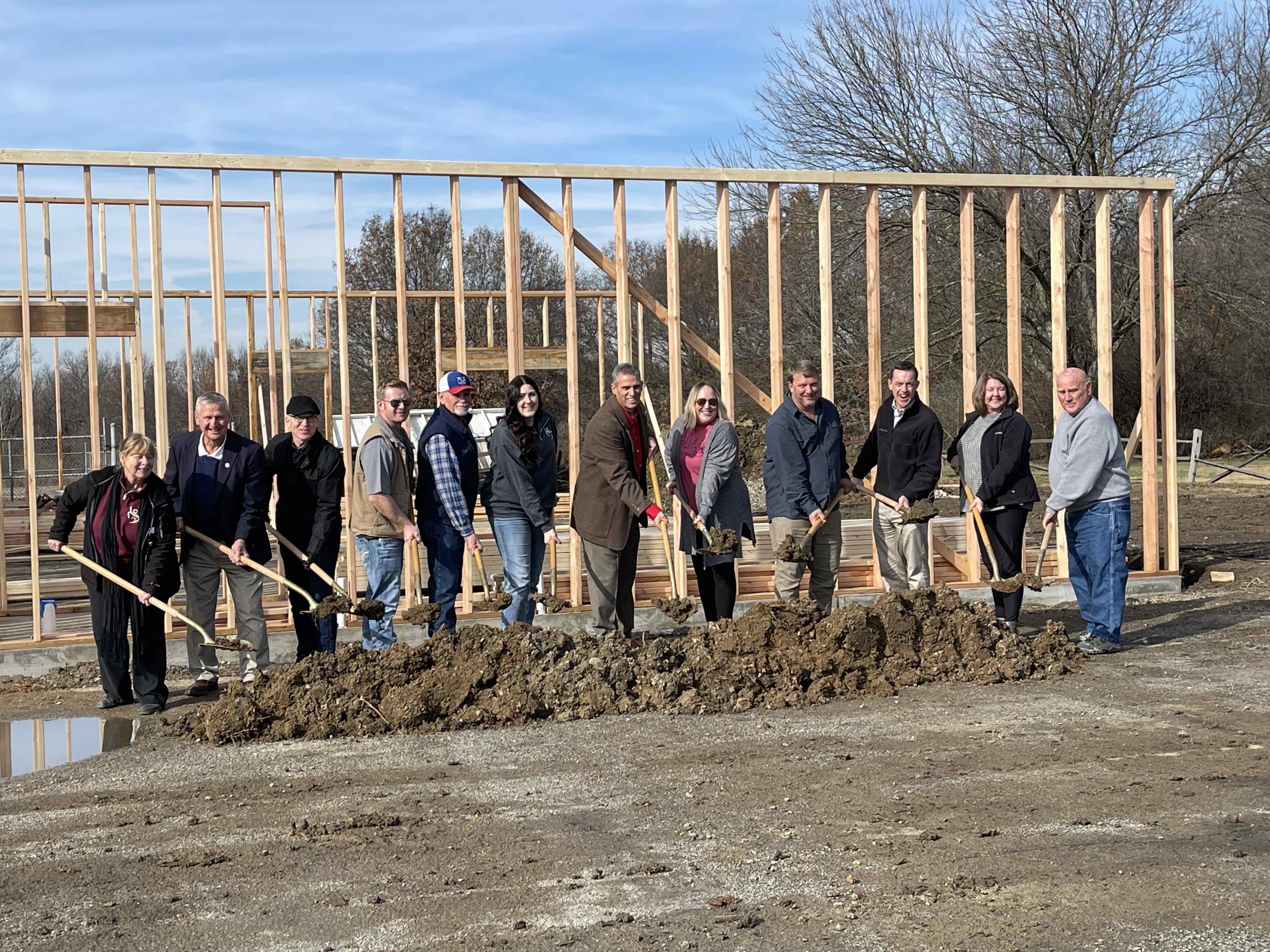 During the groundbreaking celebration, key speakers presented speeches and information about how this much-needed clinic came to be in our area. Director Heitzman-Powell described getting to this point as a long uphill battle in Kansas. "When IBT launched, autism was written as an exclusion on insurance policies," she said. "Only the wealthy could afford services. Getting services in Southeast Kansas was next to impossible, and I've known families who would drive two hours one way for treatment." 
Dr. Paige Boydston, who will serve as Interim Director of the clinic, described similar experiences. She has been providing services to families in the region since 2011 and has set a personal goal of helping retain providers in the area so their work can continue to expand to more rural families.
Blake Benson, President of the Pittsburg Area Chamber of Commerce, attended the celebration to pass along his congratulations. "What many of you may not know, is that IBT has been operating out of the back of the Chamber building," he revealed, explaining that not having a location of their own did not slow them down, but being able to have their own will only increase their positive impact on the area. "What your services provide and seeing the smiles of those that come and go really makes my day; and seeing the number of people visiting makes it apparent that it's a need." He then described how the church came to be involved. 
Three and a half years ago, Pastor Donnie Talent of Victory Life Church was new to the area. He was in Benson's office and asked him what he and his church could do to better serve the community. Benson recalls chuckling and saying "Well, ya can't build a childcare facility, can ya?" Three and half years later, here we are.
"God has given us an opportunity to put this massive building to use, day in and day out," said Pastor Talent. He gave much credit to the County Commissioners for their assistance with funding. "Even when other counties would not get involved, our commissioners did."
The clinic aims to open in February or March, with Sonshine Childcare aiming for early Spring. "There are currently 152-157 children on the waiting list right now for the Family Resource Center who need childcare," said Pastor Talent. Phase one of the childcare facility will open spots for 52 of those children ages one through four. Phase two, along with additional funding, will provide spots for infants under one year of age, with an added ability to take 45 additional children in for day care.
Children who attend Sonshine will be able to receive clinic-based services from IBT's on-site clinic, bringing two much-needed services together for the community. "Victory Life Church is grateful to be part of this ground-floor opportunity," said Pastor Talent. "We are excited to be a part of this wonderful community project and we look forward to many years of growth and partnership."
"A common misconception," added Director Heitzman-Powell, "is that individuals with autism are anti-social. They don't want to have friends. But that is not true. It's not that our kids don't wanna have friends, it's that they don't know how," she explained. One family who attended the celebration, and plans to utilize the new clinic, agreed with Heitzman-Powell. They have a 13-year-old daughter with autism and confirmed the fact that most people assume she does not want to be included. But the exact opposite is true. "Don't be afraid to pull them in and teach them how to be friends," they said, which is exactly the goal of this collaboration. Not only will it help the children with autism, but children who attend the childcare facility will also be able to learn how to be good friends to the children who utilize services from IBT. "Communication, social skills, and family engagement are some of the top priorities we will work on at the clinic," said Dr. Boydston.
The new clinic will be approximately 2,385 square feet and construction is already well underway. The clinic aims to serve 30 families when it opens.
IBT has served or currently serves families in Pittsburg, Parsons, Ft. Scott, Chanute, Carl Junction MO, Frontenac, and are open to serving anyone in Southeast Kansas. Families who would like more information on autism services or to place their child on the center waitlist can contact admin@ibt-inc.org or call the main office at (913) 662-7071. Families may also contact Dr. Boydston at pboydston@ibt-inc.org for more information on how to enroll on the waitlist. 
If you would like information on sponsorship opportunities, please feel free to reach out to IBT's Development Director Jon Durney at Jondurney@ibt-inc.org or call 217-714-8245.