Trojans on to Sub State Finals
BY NICK CORN
In their third matchup with the Baxter Springs Lions, Girard stumbled out of the gates, but regained their composure to take the game 67-52.
After Baxter started the game with their first nine points coming from three-point land, and held a seven-point first quarter lead, Girard would go on a serious scoring run and would not trail again the rest of the night.  Girard would score nine straight points to end the first quarter and take a 15-13 lead into the second.  
The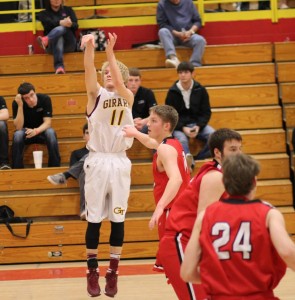 second quarter belonged to the Trojans once again, as they outscored the Lions 15-8 to take a 30-21 lead into halftime. 
The Lions turned up their offense in the third quarter, outscoring Girard 15-17, but still trailed by seven entering the final quarter.  Girard held on to their lead, and ended up winning by a comfortable fifteen points.  Drew Davied led the Trojans with 18 points on the night, while Tyler Green added 14.  
Tonight Girard will take on Frontenac at 7:30 in Columbus for a chance to go to the Class 4A Division II state tournament.  Frontenac defeated Columbus 68-55 to advance to the finals.  In their last regular-season game, Girard defeated Frontenac 64-54 in their only matchup of the season.