Trojans blowout win puts them in finals
BY NICK CORN
Girard faced the Iola Mustangs Thursday night to begin sub-state play in Iola.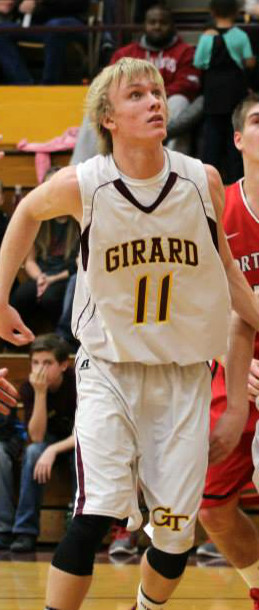 The Trojans began their season against the Mustangs, a game that ended in a 60-44 Trojan victory. If you are comparing scores, it appears Girard's defense is clicking at the right time, as they held Iola to just 24 points in a 41-point victory.
The Drew Davied and Laike Damman duo got the Trojans rolling in the first; Davied scored nine points, and Damman added six from a pair of trifectas. After one, Girard held a 19-10 lead.
Damman hit two more treys in the second and picked up a two-point basket, while Davied added seven in the quarter. At halftime, Davied had scored as many points as the entire Mustang team with 16. The Trojans led 41-16 heading into the break.
Five Trojans scored in a 14-point third to extend the lead further. Damman and Davied scored five apiece, while Dalton and Junior Lindbloom each scored two points. Tyler Green added two as well.
With a 55-23 advantage heading into the fourth, Girard scored 10 in the final quarter while holding Iola to just one point. Damman and Davied led the way with 20 points apiece, and Kross Hamblin scored eight for the Trojans.
With the 65-24 win, the Trojans advance to the sub-state finals for the second straight year. Girard will meet up with Prairie View at 7:30 Saturday night with a chance at making back-to-back state tournament appearances.
BOX SCORE
GHS    19    22    14    10    FINAL 65
IHS     10     6        7     1                24
GIRARD: DAMMAN 20, DAVIED 20, HAMBLIN 8, GOFF 6, GREEN 4, WILSON 3, D. LINDBLOOM 2, J. LINDBLOOM 2
3-PT FG: DAMMAN 4, DAVIED 1, WILSON 1