Senator Jerry Moran tours Girard Medical Center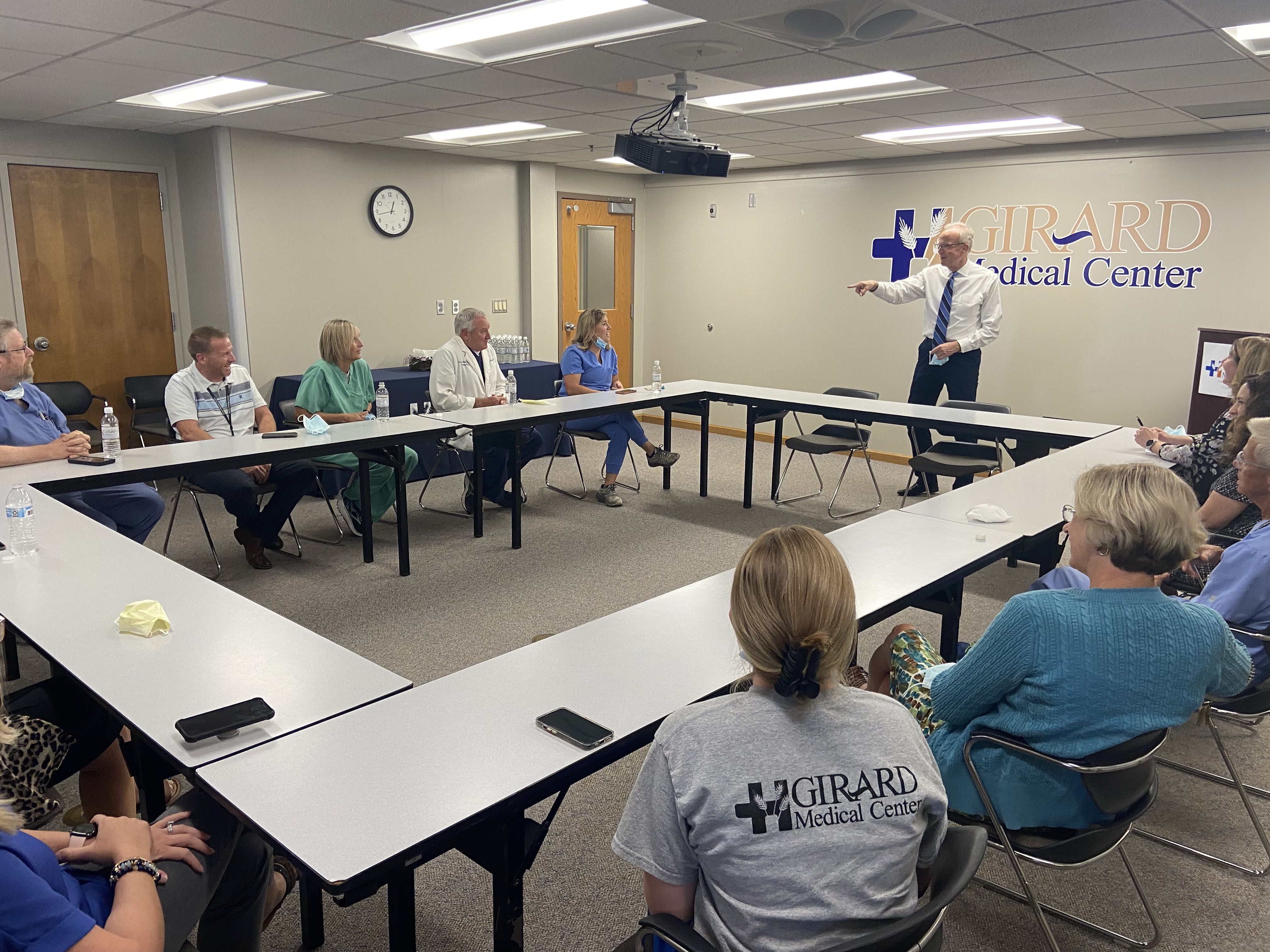 BY TUCKER HUDSON
HOMETOWN GIRARD
Kansas Senator Jerry Moran visited Girard Medical Center on Monday, August 1st to tour the hospital and speak with the staff.
In a statement released by his office this week, Moran applauded the hospital saying, "On Monday, before heading back to Washington, I had the opportunity to visit the Girard Medical Center, where I toured their facility and met with the center's medical staff and administration. It was great to meet members of the faculty and learn more about their experiences working in a small-town Kansas medical center. With the negative impacts from the pandemic, supply chain issues and workforce shortages, I appreciate the dedication of healthcare providers now more than ever. Thank you to the Girard Medical Center CEO Ruth Duling for the warm welcome, and to everyone at Girard Medical for your continued efforts to provide Southeastern Kansans with exceptional care."
Following his tour, Moran spoke to the staff over the importance of rural hospitals and the impact they have on the state of Kansas.
"One of the primary contributors for me working in Washington D.C. is to do what I can to keep rural America alive and well," said Moran.
He continued, "Near the top of the list of how you do that… is whether or not we have access to healthcare in communities like Girard or my hometown of Plainville. What you do here is hugely important to this effort to keep these places that many of us call home around for a while longer."
Moran said there are fewer hospitals in Kansas now than when he started, something he says deeply saddens him.
After speaking to hospitals across Kansas about the problems they face, he has found one of the most common issues is the lack of people in the workforce.
"We're trying to make sure that the things we do here are helpful and in that quest to keep hospital doors open and positions available," Moran stated, "Our most recent success has been the hospital provider assessment which determines how hospitals get reimbursed by Medicaid."
Moran commented that Kansas' expansion of Medicaid has opened up new avenues for hospitals to receive funds.
He wanted the people of Crawford County to know that, even though it is small, the quality of the healthcare is something to hold dear.
"In everything I saw about services offered you are a very special place," he commented to the staff, "I've been in every hospital in Kansas and this has more services and more people in a quality environment, at least to the outsider walking through the door. Thank you for providing healthcare to this community and surrounding area."