Obituary: William M. Ramage
William M. Ramage, Jr., 71, of Pittsburg passed away at 11:55 a.m. on Monday, August 3, 2015 at Via Christi Hospital.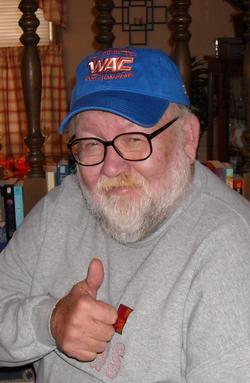 He was born August 15, 1943 at Pittsburg, Kansas, the son of William M. Sr. and Mable Ruth (Slankard) Ramage Black. He attended Horace Mann Grade School, College High School and graduated from Pittsburg High School in the Class of 1961. He was a longtime Pittsburg resident. Bill never met a stranger and he always had a joke or story to tell. He enjoyed woodworking, sports and mowing his lawn and being a salesman, most recently at Derailed Commodity. He married Shirley Kaye Thompson in 1962. Together they had four children. They later divorced. He married Edith Puckett in 1978. They later divorced.
Surviving are two sisters, Jo Ramage of Pittsburg and Nancy Seal and her husband, John of Pittsburg; other survivors include several nieces, nephews and cousins as well as his caregiver, Wanda Mingori. He was preceded in death by his father on August 17, 1995 and by his mother on June 22, 2015.
A graveside memorial service will be held at 2:30 p.m. Thursday (August 6) at the Highland Park Cemetery, with Pastor Dan Moss officiating. Burial will follow the services. Friends are requested to meet at the cemetery. Bill has chosen to be cremated. The family suggests memorials to the South Broadway Baptist Church. These may be left at or sent to the Brenner Mortuary, 114 East 4th St., Pittsburg, KS 66762. Friends may also leave condolences online at www.brennermortuary.com. Arrangements are under the direction of the Brenner Mortuary, Pittsburg, KS.