Obituary: Roland Campbell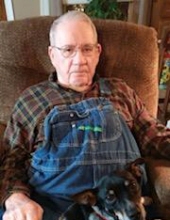 Roland H. Campbell, 94, of Girard, died at 1:06 p.m., Wednesday, July 7, 2021 in the Ascension Via Christi Hospital in Pittsburg following a heart attack.
Roland was born December 25, 1926 in Meriden, Kansas, the son of Roscoe Conklin and Clara Gladys (Henderson) Campbell.
He grew up and attended schools in Leavenworth and Meriden and graduated from Meriden High School in 1944.  He farmed southwest of Topeka and south of Oscaloosa before entering the US Army during WW ll, where he served in the Philippines and Japan.  After his service, he returned to farming at Meriden before moving to rural Walnut in 1969.  He continued to farm before retiring in 2000.
He married Dorothy Frances "Dottie" Naanes on June 22, 1962 in Topeka.  Dottie preceded him in death on May 15, 1989.  He married Janice Elizabeth Blattner on January 6, 1990 in Humboldt, Kansas and she survives of the home.
Roland was a member of the United Methodist Church in Frontenac; a past board member of the Farm Bureau and the Girard Medical Center; the Meriden Masonic Lodge No. 236 and the American Legion in Arma.
Roland enjoyed farming, traveling, square dancing, and country music.
Survivors, in addition to his wife, Jan, of the Home, are a daughter, Linda Renee Baum, and her husband, Melvin, of Olathe; a step-son, Mark Muninger (Wendy) of Killen, Alabama; step-daughters, Suzanne Simpson of Pittsburg and Julia Kilcullen (Chris) of St. Louis; numerous step-grandchildren, and step-great-grandchildren; his sisters, Laurel Browning (Everett) of Peru, Nebraska, Helene Hayward (Jack) of Canyon, Texas, and Shirley Bowser (Bob) of Meriden; numerous nieces, nephews, great-nieces and great-nephews.
Roland was preceded in death by his parents and his sisters, Virginia Ludy and Clara McClure.
Memorial services will be held at 11:00 a.m., Saturday, September 11, 2021 at the Smith-Carson-Wall Funeral Home in Girard with Reverend Pauline Clugston and Chaplain Adah Hutchcraft officiating.  Military honors will be given by the Arma American Legion.
Burial will be in the Hepler Cemetery.
The family will receive friends from 10:00 a.m., until service time at the Smith-Carson-Wall Funeral Home where friends may call from 1:00 until 5:00 p.m., Friday, September 10, 2021.
Memorials are suggested to the Wounded Warriors and these may be left at the funeral home at 518 W St. John, Box 258, Girard, 66743. 
Condolences may be sent to Carson-Wall Funeral Services | St Paul, Parsons, Erie and Girard, KS Funeral Home & Cremation