Obituary: Reginald (Reggie) James Noe
Reginald (Reggie) James Noe of Girard passed away unexpectedly at his home on May 19, 2019.
He was born on August 19, 1955, in Wichita to James E. and Betty M. (Kellogg) Noe. Reggie followed in his Dad's footsteps with a career as a butcher for 43 years.  He was a graduate of Girard High School.  In his spare time, you would see him outside beautifying the yard or building another little shed for his equipment.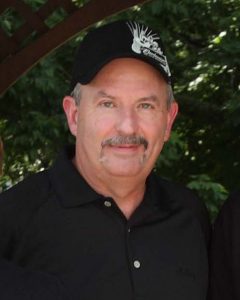 He is survived by his wife, Toni Stroud-Noe of the home.
Other survivors include his Mother, 1 brother, 3 sisters, 6 children, 2 step children, and 18 grandchildren.
The children include Amy (Geoff) Haas and family of Knoxville TN; Chris (Lori) Noe and family of Walnut; Meredith (Daniel) Reed and family of Colorado Springs;  Heather (Marshall) Webb and family of Marquette NE;   Coty (Tatiana) Noe and family of Hays KS; Zachery Noe of Girard; Josh Stroud and family of Pittsburg; and James Stroud of Girard.
The brother and sisters include Rodney (Jene') Noe and family of St. Paul; Pam (Stuart) Kurdi of Marble Falls, TX; Janet (Kevin) O'Brien and family of Hepler; LaDonna (Pat) Whetzell and family of Farlington.
He was preceded in death by his Dad, James (Jim) Noe; Brother, Mark Noe; and his maternal and paternal grandparents.
No formal services are planned at this time.  The family asks that you please join them in a Celebration of Life on Friday, May 24th, from 2 p.m. to 6 p.m. at 517 N. 7 Hwy, Girard, Kansas.