Obituary: Gene A. Allen
Gene A. Allen, 79, of Girard, died at 1:53 a.m., Thursday, May 23, 2019 at his residence in Girard.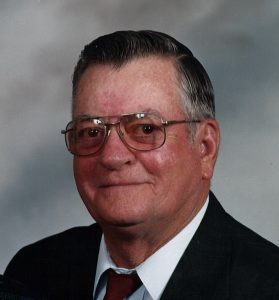 He was born October 12, 1939 in Cherokee, Kansas, a son of Clinton M. and Xenia (Marshall) Allen.  He grew up at rural Cherokee and graduated from Crawford High School in Cherokee.  He attended Vo-Tech school at Kansas State Teacher's College in Pittsburg, Kansas.
He served in the US Air Force from August 1, 1957 until July 31, 1961.
Gene married Sharon Jean Norris on January 11, 1963 in Cherokee, Kansas.  She preceded him in death on May 4, 2002.
Gene worked as a manager in the feed plant at Producers Coop in Girard from 1963 until his retirement in 2002.
He enjoyed his family, fishing, bowling, and taking trips with Judy.
Survivors include his loving companion, Judy Lasley of Girard; his sons, Alden Allen, and his wife, Gena, of Girard and Rick Allen, and his wife, Christy, of Girard; his grandchildren, Kayla Wester, and her husband, Zach, Kevin Allen, and his fiancé, Alycia Endicott, and Travis Allen; his great-grandsons, Gene Allen and John Wester; his brother, James Allen, and his wife, Wilma, of Highlands Ranch, Colorado.
Funeral services will be at 2 p.m., Sunday at the Smith-Carson-Wall Funeral Home in Girard with Pastor Dallas Peterson officiating.  Burial will be in the Girard Cemetery.
The family will receive friends from 1 p.m. Sunday until service time at the Smith-Carson-Wall Funeral Home where friends may call from 3 until 8 p.m., Saturday and after noon on Sunday.
Memorials are suggested to Harry Hynes Memorial Hospice and these may be left at the Smith-Carson-Wall Funeral Home, 518 W St. John, Box 258, Girard, 66743.
Condolences may be sent to www.wallfuneral services.com