Obituary: Mary Regina Cobb
Mary Regina Cobb, 93, of Chanute, died at 1:05 p.m., Saturday, August 10, 2019 in the Neosho Memorial Hospital in Chanute.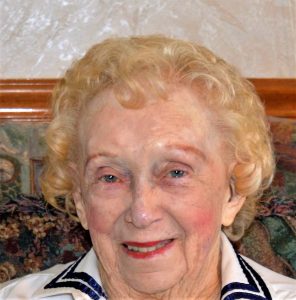 Regina was born June 25, 1926 in McCune, Kansas a daughter of Harold and Alice (Fowler) Schreuer.
Regina married Edward Calvin Cobb on June 10, 1945 in Marysville, Kansas.  He preceded her in death on September 8, 2012.
Mary was a homemaker, devoted wife and mother.
She was a member of the St. Patrick Catholic Church in Walnut.
Survivors include her son David Cobb of Chanute, Kansas, three sisters, Dorothy Robinson, Patricia Hess, Joann Cook and several nieces and nephews.
Mary was preceded in death by one son, Charles E. Cobb, one brother, John Schreuer, three sisters, Margaret Larkin, Betty O'Hara, and Evelyn Tillman.
Funeral services will be at 10 a.m., Friday, August 16, 2019 at the St. Michael Catholic Church in Girard with Fr. Floyd McKinney officiating.  Burial will be in the Girard Cemetery.
The Rosary will be prayed at 6 p.m., at the Smith-Carson-Wall Funeral Home in Girard where friends may call after 2 p.m. Thursday.
Condolences may be sent to www.wallfuneralservices.com.