Obituary: Marjorie "Marge" Vietti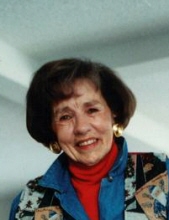 Marjorie "Marge" Vietti, 92, of Girard, died at 12:06 a.m., Sunday, May 30, 2021 in WestRidge Assisted Living in Girard.
Marge was born November 5, 1928 in Girard, a daughter of Albert and Lottie (Janssen) Kirkpatrick.
She grew up and attended schools in Girard and graduated from Girard High School. She attended Flight Stewardess School in Kansas City.
Marge married James "Jim" Vietti on May 13, 1951 in the First Presbyterian Church in Girard. Jim preceded her in death on August 9, 1995.
She was a homemaker, an avid Bridge player, a golfer, and an amazing Grandma to her 7 grandchildren.
Marge was a member of the First Presbyterian Churches in Oswego and Girard and a Deacon in the Oswego Church, the Girard Area Community Foundation, and the Ladies Auxiliary at the VFW in Oswego.
Survivors include her son, James Kirk Vietti, and his wife, Eva, of Farlington; her daughters, Peggy Jean Vietti of Jefferson City, Missouri, and Polly Lynn Vietti of Pittsburg; 7 grandchildren; 13 great-grandchildren; a sister, Marilyn Evans of Girard.
Marge was preceded in death by an infant daughter, Julie Vietti, a granddaughter, Wren Harvey, and a sister, Charlotte Kirkpatrick.
Graveside services will be at Noon on Friday at the Girard Cemetery with Pastor Rick Prideaux officiating. Friends are asked to meet at the cemetery and burial will follow the services.
Friends may call from 1:00 p.m. until 8:00 p.m., Thursday at the Smith-Carson-Wall Funeral Home in Girard.
In lieu of flowers, memorial donations are suggested to the Girard Area Community Foundation or the Oswego Golf Course and these may be left at the service on Friday or the Smith-Carson-Wall Funeral Home, 518 W St. John, Box 258, Girard, 66743.
Condolences may be sent to www.wallfuneralservices.com