Obituary: Marjorie L. (Vinze) Shireman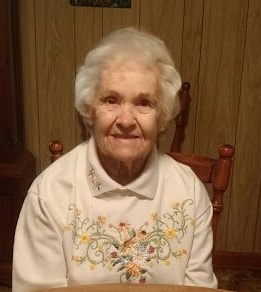 Marjorie L. (Vinze) Shireman, 90 of Walnut, Kansas passed away Monday, May 21, 2018 at Medicalodges of Pittsburg.
She was born June 19, 1927 in Ringo, Kansas, the daughter of Hugo and Carolina (Moratori) Vinze. She grew up east of Hepler and graduated from Hepler High School.  She attended Kansas State Teachers College now Pittsburg State University receiving a teaching certificate.  She taught at a rural school for several years. She later was employed as an assistant cashier at Kress store in Chanute, Kansas.
On May 24, 1947 she married the love of her life, Charles (Steve) Shireman and they lived nearly 71 years together on a farm north of Walnut.  He survives at the home.
Marjorie dearly loved her children, grandchildren and great-grandchildren and thoroughly enjoyed her life on the farm.  She was always busy cooking, gardening, working in her flowers beds, and a full partner in the farming activities.
She was member of the United Methodist Church at Walnut.  A former member of the Hepler VFW Auxiliary and the Walnut American Legion.
Survivors include three sons, Charles (Steve) Shireman Jr. (Kay) of Emporia, Doug Shireman (Richette) of Walnut, and Greg Shireman (Charlotte) of Springfield, Mo.; a daughter Jan Schiefelbein (Kurt) of Pittsburg, 9 grandchildren: Julie Shireman (Mike), Kevin Shireman, Dan Shireman (Angie), Dale Shireman, Leah Smith (Dustin), Niki Jordan (Patrick), Pat Schiefelbein (Candice), Andrew Shireman (Jamie), and Stephen Shireman (Hannah) and 15 great-grandchildren and numerous nieces and nephews.
She is preceded in death by her brothers Cereno, Aldo, Mack, and Ernest Vinze; sisters Virginia Thomasand Elizabeth Corley.
Graveside services will be at 11:00 a.m., Tuesday, May 29, 2018 at the Ft. Scott National Cemetery. Friends are asked to meet at the cemetery. There will be no viewing or visitation.
The family suggests in lieu of flowers expressions of sympathy be in the form of Memorials to Harry Hynes Memorial Hospice or the Shriners Hospital for Children; these may be left at or mailed to Smith-Carson Wall Funeral Home, 518 W St. John, Box 258, Girard, Ks. 66743.
Condolences may be sent to www.wallfuneralservices.com