Obituary: Lelia LaForge
Lelia LaForge, 99 of Girard, passed away at 1:00 p.m., Sunday, October 14, 2018 at her home after a short illness.
Lelia was born September 28, 1919 in rural Girard to Fern and Goldie (Maish) Graham.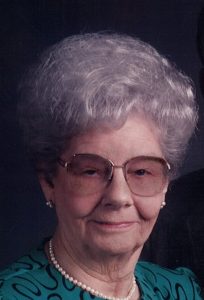 Her grade school years were spent at Slifer School near Girard. She graduated from the Girard High School in 1938.
She married V.J. "Bud" LaForge on June 28, 1938 at St. Aloysius Catholic Church at Greenbush, Kansas.
She spent the majority of her married life raising her family and working side by side with her husband on the farm. He preceded her in death in 2001.
She was a member of St. Michael Church in Girard. She was previously a member of St. Aloysius Church at Greenbush.
She is survived by a daughter: Phyllis Cambers, and her husband, Bill, of Tucson Arizona, a grandson; William J. "Bill" Cambers, and his wife, DeAnn, of Girard who looked after her family interests and maintenance and helped her with her home and other needs. She has 8 grandchildren, 14 great-grandchildren and 24 great-great-grandchildren, numerous nieces and nephews.
She was preceded in death by her husband, her parents, a daughter; Dorothy Horton, sisters; Ruth Delange and Jessie Wilson, a brother; Fern Graham Jr. and a great-great-grandson; Cooper Klepac.
Rosary will be at 6 p.m. Wednesday, October 17, at the Smith-Carson-Wall Funeral Home; visitation will follow. Friends may call after 2 p.m., Wednesday at the funeral home.
Funeral Mass will be at 10 a.m., Thursday, October 18, at St. Michael Catholic Church with Fr. Floyd McKinney as celebrant. Burial will follow in the Girard Cemetery.
In lieu of flowers, memorials are suggested to the Harry Hynes Memorial Hospice and these may be left at the church or mailed to the Smith-Carson-Wall Funeral Home, 518 W. St. John, P.O. Box 258, Girard, Kansas 66743.
Condolences may be sent to www.wallfuneralservices.com