Obituary: Howard Chester Ausemus
Howard Chester Ausemus, 99, of Hepler, died at 9:00 a.m., Thursday, January 30, 2020 in the Medicalodge in Girard.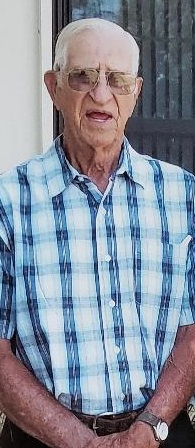 Chester was born June 26, 1920 at Hiattville, Kansas, a son of Carl and Emma (Armstrong) Ausemus. He graduated from Hepler High School in Hepler, Kansas.
Chester married Edna Ilene Howell on October 19, 1942 in Girard. She preceded him in death on May 29, 2004.
He served in the US Army, worked for the railroad, Sapp Trucking, handyman for the City of Hepler and over 30 years as a custodian and a bus driver at the Hepler School.
He enjoyed fishing, hunting, working, and mowing.
He was a member for over 73 years of the Hepler Masonic Lodge and later the Girard Masonic Lodge No. 93, AF & AM.
Survivors include his daughter, Arlene Weber, and her husband, Danny, of Hepler; his sons, James Ausemus, and his wife, Claudia, of Hepler and Fred Ausemus, and his wife, Kathalene, of Fort Scott; his grandchildren Ashley Ausemus, Robin Weber, Sheril Murray, Sara Conkling; a step-grandson, David Weber; 13 great-grandchildren; one great-great-grandson; his sisters, Jesse Mae Neville of Fort Scott and Lucille McDaniel of Florida.
He was preceded in death by a granddaughter, Jamie R. Hallacy, on June 14, 2011; his brothers James, Earl, Kenneth, and Harold LeeRoy Ausemus; his sisters, Lavon Fosberg, Bertha Stone, Helen Dumm, and Elsie Montee.
Graveside services will be at 11:00 a.m., Monday at the Hepler Cemetery with Pastor Chuck Harris officiating. Burial will follow the service.
Masonic Services will be at 6:00 p.m., Sunday at the Smith-Carson-Wall Funeral Home in Girard where the family will receive friends until 7:00 p.m. Friends call after 2:00 p.m., Sunday at the funeral home.
Memorials are suggested to "Smiles from Jamie" and these may be left at the service or the Smith-Carson-Wall Funeral Home, 518 W St. John, Box 258, Girard, 66743.
Condolences may be sent to www.wallfuneralservices.com.