Obituary: Harry Lee Brunk
Harry Lee Brunk, 92, of Arma, died at 4:32 a.m., Wednesday, May 15, 2019 in the Medicalodge of Pittsburg where he entered May 2.
He was born October 6, 1926 at rural Girard, a son of Arville and Lottie (Smart) Brunk.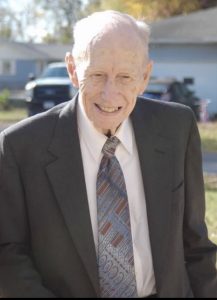 Harry graduated from the Girard High School.
On June 18, 1950 Harry was united in marriage to Betty McVey in Fort Scott, Kansas, she survives of the home.
Harry was a lifelong grain and dairy farmer in the Girard and Arma area, he lived within five miles of his birthplace his entire life. He and Betty enjoyed square dancing. Harry loved his family; it was the grandchildren and great-grandchildren that put a sparkle in his eye.
He was a member of the Methodist Church in both Arma and Farlington and was a regular attendee of the Mt. Olive Baptist Church. He was a member of the Grange and Farm Bureau.
Survivors, in addition to his wife, are a son, Randy Brunk (Kimbra) of Arma; daughter,  Pam Hockett (Denis) of Gardner  and Sandy Vinardi of Pittsburg; 8 grandchildren; 13 great-grandchildren; a sister, Dorothy Boore of Girard.
He was preceded in death by one brother, Carl Brunk, two sisters, Bernice Chiappetti and Mildred Nicoletti.
Funeral services will be at 10 a.m., Monday at the Smith-Carson-Wall Funeral Home in Girard with Rev. Jeff Swart officiating.  Burial will be in the Girard Cemetery.
The family will receive friends from 6 until 8 p.m., Sunday at the Smith-Carson-Wall Funeral Home where friends may call after 2 p.m., Sunday.
Memorials are suggested to the Bone Creek 4-H or Avalon Hospice and these may be left at the funeral home or mailed to the Smith-Carson-Wall Funeral Home at 518 W St. John, Box 258, Girard, 66743.
Condolences may be sent to www.wallfuneral services.com