Area Memorial Day visitations and ceremonies
*Girard American Legion Cemetery Visit Schedule
The George C. Brown, Post 26 of the American legion, will conduct memorial services with military honors at various local cemeteries Monday, May 27.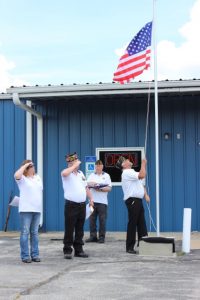 Participating community members are to meet at the Legion at 7:15 a.m. and the group will leave for the first cemetery at 7:45 a.m.
The group will meet at the following cemeteries at the following time:
Beulah Cemetery at 8 a.m.; Meyers Cemetery, 8:30 a.m.; Greenbush Cemetery, 9:15 a.m.; Brazilton Cemetery, 9:45 a.m.; Lutheran South Hepler Cemetery; 10:15 a.m.
A break will occur at the Hepler Community Center at 10:30 a.m. before continuing to the rest of the cemeteries.
After the break, the group will travel to the North Hepler Cemetery at 11 a.m.; Farlington Cemetery, 11:30 a.m.; Girard Cemetery/Unknown Soldier's Monument, noon; Big Flag Monument 12:15 p.m.
*Pittsburg State University Memorial Ceremony
The annual Memorial Day ceremony at the PSU Veterans Memorial is planned for 9 a.m. Monday, May 27, with Andy Klenke (Staff Sergeant, U.S. Army) as the keynote speaker.
Klenke is the chair of Technology & Workforce Learning at PSU. His children, siblings, and in-laws include current service members and veterans, and he is a member of the PSU Veterans Memorial Advisory Committee.
The ceremony is open to the public. In the event of inclement weather, it will be moved to the Bicknell Family Center for the Arts, 1711 S. Homer.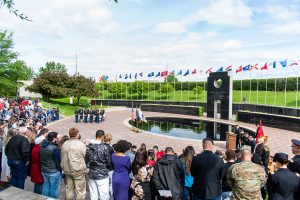 Serving as emcee for the ceremony will be Cadet Anthony Aung, PSU Army ROTC. The National Anthem will be sung by Lisa Gerstenkorn, PSU Music Department faculty, and "Taps" will be played by Will Koehler, a 2011 graduate.
The ceremony also will include a dedication of new pavers, music, and an invocation and benediction by 2nd Lt. Wyatt Presnell, PSU Army ROTC.
Klenke was a Signals Intelligence Morse Code Interceptor with Electronic Warfare training for the U.S. Army from November 1983 to November 1990.
He held the position of platoon sergeant in the 513th MI Brigade S3. Duty assignments included basic training at Fort Leonard Wood, Missouri; AIT at Fort Devens, Massachusetts; and duty assignments at Fort Lewis, Washington, Seoul, Korea, Augsburg, Germany, and Fort Monmouth, New Jersey.
He earned his MSEd in Technology Education from PSU in 1998, his EdS in higher education from PSU in 2006, and his EdD in Workforce Development/Technology Education from the University of Arkansas at Fayetteville in 2010.
Klenke joined the staff at PSU in 1998 as an associate professor. Prior to that, he was a technology teacher at Chanute High School.