Obituary: George W. Stonerock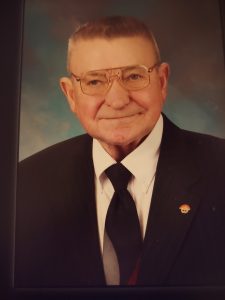 George W. Stonerock, 85, of Girard, passed away at 7:23 a.m., Wednesday, December 25, 2019 in the emergency room of the Girard Medical Center.
George was born October 24, 1934 at Girard, a son of George B. and Grace (Crites) Stonerock.
He attended school in Girard and graduated from Girard High School.  He also received additional training in electrical, heat and air.
At age eleven, George began working at Sell & Sons Hardware in Girard and continued to work there before entering the US Army in June of 1957.
George was in the 217th field artillery missile battalion at Redstone Arsenal in Huntsville, Alabama before entering the 102nd Engineering battalion at Fort Bragg, North Carolina.  He received his discharge in September of 1959 and returned to Sell & Sons Hardware.
George owned and operated Stonerock Plumbing in Girard.  He later worked at the Army Ammunition Plant in Parsons, Kansas as a fireman and later as an electrician and a pipe fitter.
In 1971, he was employed by the City of Girard as a Crew Chief of the Light and Water Departments and later becoming Superintendent.  He was a past Captain and volunteer at the Girard Fire Department for over 25 years.  He also worked at Bill's Coal Company as an electrician and a federal electric inspector.  After moving to Grove, Oklahoma, he owned and operated Grand Lake Golf Cart Sales, before moving to Farlington Lake in November of 1998, where he worked in the maintenance department for Crawford State Park.
On October 5, 1957 George and Catherine "Kate" Richard were united in marriage at St. Patrick's Catholic Church in Walnut, Kansas.  She survives of the home.
George was a member of the George C. Brown Post. 26, American Legion of Girard; for over sixty-years he was a member of the Girard Masonic Lodge No. 93, AF & AM of Girard; the Consistory in Fort Scott; and the Mirza Temple in Pittsburg where he was a member of the Director's Staff.
He enjoyed fishing, working, helping others, spending time with his family, and dancing.
Survivors in addition to his wife are his son, Tony Stonerock, and his wife, Rhonda, of Girard, his daughter, Vicki Couch, of Pittsburg; his grandchildren, Anthony Stonerock, and his wife, Taylor, of Winfield, Kansas, Aaron Stonerock, and his wife, Emily, of Pittsburg, Chris Bradshaw, and his wife, Stephanie, of Joplin, Casey Bradshaw Morris, and her husband, Alex, of Olathe, Chayce Couch of Pittsburg; ; his great-grandchildren, Cayde Stonerock, Brenley Bradshaw, and Samuel Morris; his nieces, Zenna Appier of Frontenac, Phyllis Orr of Talequah, Oklahoma, and Sheila Martin of Ft. Smith, Arkansas.
George was preceded in death by his parents, his brother, William L. Stonerock; his sisters, Delia Mead and Cleta Sanzero.
Services for George W. Stonerock will be 10:00 a.m. Monday, December 30, 2019 at the St. Michael Catholic Church with Fr. Floyd McKinney officiating.  Burial will be in the Girard Cemetery with Military Honors given by the George C. Brown Post No. 26, American Legion of Girard.
Visitation will be Sunday, December 29, from 6 till 8 p.m. at the Smith-Carson-Wall Funeral Home in Girard with Masonic Services by the Girard Masonic Lodge, No 93, AF & AM at 6:00 p.m.  Friends are invited to call at the funeral home after 2:00 p.m., Sunday.
Memorials are suggested to the Mirza Transportation Fund or St. Michael Church Building Fund and these may be left at St. Michael's Church or the Smith-Carson-Wall Funeral Home, 518 W. St. John, P.O. Box 258, Girard, Kansas 66743.