Obituary: Carl H. Fisher
Carl H. Fisher, 93, of Girard, passed away at 9:52 a.m., Saturday, June 15, 2019 in the WestRidge Retirement Community in Girard.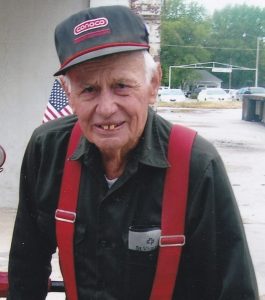 Carl was born on October 4, 1925 at Girard to Peter and Elizabeth (Mutch) Fisher, who have preceded him in death.  Carl was also preceded by a half brother and a half sister.
On December 30, 1972 Carl married Sharon Leftwich of Townsend, Wisconsin.
Carl was a lifelong farmer, cattleman and US Army veteran.
He was a member of the Girard Masonic Lodge No.93, Mirza Shrine, American Legion and lifetime member of the Girard FFA Alumni.
Survivors, in addition to his wife, Sharon, of the home, are his daughters, Cathy Kinkaid of Pittsburg and Carolyn and Robert Zagonel of Girard.  Carl was also survived by 4 grandchildren.  Jessica and Jason Schieber of Phoenix, Arizona, Jonathan and Hannah Mogle of Ft. Collins, Colorado, Aaron and April Zagonel of Walnut, Kansas and Anissa Zagonel of Manhattan, Kansas.  Carl is survived by seven great grandchildren Micah, Karter and Silas Schieber, Elijah and Hudson Mogle, Allison and Aubrey Zagonel.
Memorial visitation will be from 6:00 until 8:00 p.m., Thursday at the United Methodist Church in Girard.  Masonic Services will be held at 7 p.m.
In lieu of flowers, donations may be made in Carl's memory to the Girard FFA Scholarship Fund or Harry Hynes Hospital and these may be left at the church or the Smith-Carson-Wall Funeral Home, 518 W St. John, Box 258, Girard, 66743.
Condolences may be sent to www.wallfuneralservices.com.