Obituary: Billie Donald (Bill) Cherry
Billie Donald (Bill) Cherry, 84, left for Heaven on May 26, 2019 while at Delmar Gardens in Overland Park, Kansas.  He was born on August 3, 1934 in Pittsburg, Kansas to the late John Leonard Cherry and Zella Mae (Fikes) Cherry.
Bill grew up in Beuela, Kansas and graduated from Girard High School in Kansas.  After high school, he attended Southwest College for two years. He proudly left to serve in the United States Army beginning May 31, 1957 receiving an honorable discharge on May 30, 1959. He finished his time with the United States Army Reserve completing his commitment on January 31, 1963.  Bill then went on to receive a Bachelor of Science degree in Business Management at Kansas State College of Pittsburg.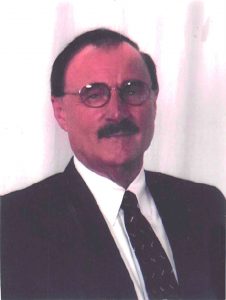 Bill married Donna Kay Senecaut on April 20, 1957 in Girard, Kansas.  They celebrated the birth of two sons: William Kent Cherry (Beth) of Overland Park, Kansas and Michael Gregg Cherry (Nikki) of The Woodlands, Texas. Bill and Donna were happily married for 32 years until her passing on August 5, 1989. Bill was employed as a Market Manager in the grocery industry where he befriended many people in the community and always remembered their face and names.  He would gladly stop and talk to each one of them when they shopped at his store. Bill continued serving his community for 30 years.  After retirement, his love of people and helping others led him to become a Front Desk Host at hotels in Overland Park, Kansas and Lee Summit, Missouri. For many years he happily continued serving the public and meeting people from various places in the world.  Bill was very active in his son's lives serving as Cubmaster, District Leader for the Cub Scout Committee, and directed the Cub Scout Leader's Roundtable.  He also participated in the Pittsburg United Way Fund Organization and was an active member in The American Legion.
Bill was always ready to engage in conversation with anyone. He was very informed of all the historic and current events in his community because reading the daily newspaper was first and foremost on his to do list every morning.  Cooking was a favorite hobby and it fell in line with his desire to comfort and serve others. He cooked for several local charity organizations when he wasn't working. He had a flair for clothes and decorating, therefore, he loved shopping and made a point to visit his favorite places as often as possible. His greatest enjoyment was spending time with his three granddaughters, often taking them on shopping sprees to toy stores and eventually the Mall stores. He was devoted to his family and never passed up the opportunity to do something for any one of them. Bill was extremely proud of his son's accomplishments as well as his granddaughter's and loved them all unconditionally.
Bill is survived by his sons Kent and Mike Cherry as well as granddaughters Breana L. Abbott (Shane) of The Woodlands, Texas; Bailey E. Stacey (Patrick) of Prairie Village, Kansas and Natalie K. Zale (Blake) of Dallas, Texas. Bill was a great-grandfather and survived by Jacob, Caleb, and Treasure Abbott all residing in The Woodlands, Texas. His siblings Wanda Nickle and Betty Cuthbertson and many nieces and nephews will also miss him dearly.
Bill was preceded in death by his wife, Donna K. Cherry; parents, John L. Cherry and Zella M. Cherry; and a brother, Marvin L. Cherry.
A memorial visitation will be held on May 29, 2019 from 1-2 p.m. at Delmar Gardens, 12100 West 109th Street, Overland Park, Kansas 66210.  A burial service will be held at Girard City Cemetery, 807 South Carbon Street, Girard, Kansas 66743 at 1 p.m. on May 30, 2019.
In lieu of flowers the family requests donations be made to Disabled American Veterans, Catholic Charities, or the American Diabetes Association.  Donations can be mailed to Porter Funeral Home or though the charitable cause directly.