Obituary: Bernadine F. Shively
Bernadine F. Shively, 95, of Girard, died at 7:54 p.m., Monday, May 27, 2019 at Aldergate Homecare Plus in Topeka.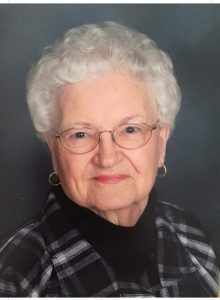 Bernadine was born November 2, 1923 at Greenbush, Kansas, a daughter of Bernard and Helen (Marnell) Titmus.  She attended Kavanaugh School in Crawford County and graduated from Walnut High School in Walnut, Kansas in 1941.
She married Edward E. Shively on November 23, 1944 at St. Mary Cathedral in Galveston, Texas.  Edward preceded her in death on March 18, 1996.
Bernadine worked in Berkley, California, Kansas City, and for over 25 years in construction planning at the Kansas Army Ammunition Plant in Parsons, Kansas before retiring in 1989.
Bernadine was a member of St. Michael Catholic Church in Girard and the Ladies Altar Society, the SEK Doll Club, Girard Garden Club, the Ladies Auxiliary at the Gard Lee Post No. 292, American Legion in Walnut, Red Hat Club, and a lifetime member of DAV of Pittsburg.  She enjoyed quilting and making homemade cards.
Survivors are her sons, Wayne E. Shively, and his wife, Sue, of Erie, Keith Shively, and his wife, Becky, of Girard; her daughters, Lorraine J. Eggan, and her husband, Keith, of Topeka and Frances E. Simmons, and her husband, Stan, of Topeka; her daughters-in-law Janice Shively of Claremore, Oklahoma and Annette Shively of Wichita, Kansas; nine grandchildren; twenty-one great-grandchildren; her sisters, Helen Brodbeck of Girard and Patricia Ball of Chicopee, Kansas; several nieces and nephews.
She was preceded in death by her sons, Bernard D. Shively and Kenneth Shively; a brother, Frank Titmus; her sisters, Geneva McGown and Margaret Pototschik.
Mass of Christian Burial will be at 10:30 a.m., Friday at St. Michael Catholic Church in Girard with Fr. Floyd McKinney as Celebrant.  Burial will be in St. Patrick's Cemetery at Walnut.
The Rosary will be prayed at 6 p.m., Thursday at the Smith-Carson-Wall Funeral Home in Girard where the family will receive friends until 8 p.m.  Friends may call after 2 p.m., Thursday at the Smith-Carson-Wall Funeral Home.
Memorials are suggested to St. Michael Church and these may be left at the church or the Smith-Carson-Wall Funeral Home, 518 W St. John, Box 258, Girard, 66743.
Condolences may be sent to www.wallfuneralservices.com.