Obituary: Beatrice (Bea) Huber
Beatrice (Bea) Huber, 89, of Girard, died at 1:50 a.m., Tuesday, April 23, 2019 in WestRidge Retirement Community in Girard.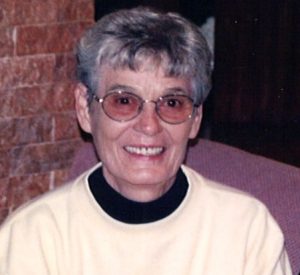 She was born September 26, 1929 in Ulysses, Kansas, a daughter of Carl and Alice (Oswalt) Coons.
Bea grew up in Hepler and graduated from Hepler High School in 1947 where she served as class valedictorian.
She married Ken Huber on May 18, 1947 in Hepler.  He preceded her in death on July 16, 1997.
Bea was an avid sports enthusiast who participated in volleyball, softball, golf, and bowling in her younger years.  She followed local sporting events and was the official scorekeeper for the Girard Trojans Softball Team for over 10 years.
Bea worked as bank teller, head cashier, and later as a vice president at the First National Bank in Girard, retiring after 29 years.
Bea was a member of the First Christian Church in Hepler before it closed in 1981.  She enjoyed her family, family gatherings, and attending her grandchildren's and great-grandchildren's school activities.
Survivors are a son, Ron Huber of Girard; a daughter, Debra (Huber) Brodbeck (Leonard) of Girard; her grandchildren, Daniel Brodbeck (Sara) of Girard, Kevin Huber (Abbi) of Girard, Julie (Brodbeck) Sneed (Dustin) of Girard, Miranda (Huber) Hallacy (Ronnie) of Walnut, and Megan (Huber) Thompson (John) of Keller, Texas; her great-grandchildren, Kaitlyn Brodbeck, Haylee Sneed, Gavin Huber, Kaylie Huber, Luke Sneed, Kylie Hallacy, Keaton Huber, Allison Huber, Erin Huber, Stella Thompson, Kason Hallacy, Shane Huber, and Ozzie Brodbeck; her brother, Bud Coons (Inez) of Bella Vista, Arkansas.
Bea was preceded in death by her husband, her parents, and sisters Betty Dunkel-Hunt and Barbara Malcom.
Memorial service will be at 11 a.m., Friday, at the National Cemetery in Fort Scott with Mike Armstrong officiating.  Friends are asked to meet at the cemetery.
The family will receive friends from 6:00 until 8:00 p.m. Thursday at the Smith-Carson-Wall Funeral Home in Girard where friends may call after 2:00 p.m., Thursday.
Memorials are suggested to Juvenile Diabetes Research Foundation and these may be left at the Smith-Carson-Wall Funeral Home, 518 W St. John, Box 258, Girard, 66743.
Condolences may be sent to www.wallfuneral services.com