Obituary: Arnold G. von Soosten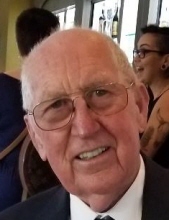 Arnold G. von Soosten, 87, of Girard, died at 6:56 a.m., Monday, July 19, 2021 in WestRidge Retirement Community in Girard.
Arnold was born July 24, 1933 in Girard, a son of Henry Luer and Elma (Klintworth) von Soosten.
He attended Immanuel Lutheran Grade School near Hepler and graduated from Girard High School. He received his bachelor's degree from Kansas State University and his master's degree in Engineering from the University of Missouri.
Arnold married Helen J. Wardrip on June 5, 1955 at Immanuel Lutheran Church. She survives of the home.
He served in the US Army from 1956 until 1958 at Arlington Hall Station in Arlington, Virginia.
They lived in various cities including St. Louis where Arnold worked for McDonnell-Douglas and Boeing Aircraft companies.
Arnold was a member of Trinity Lutheran Church in Girard, and he enjoyed his family, playing golf, carpentry, and electrical work, having rebuilt his home.
Survivors, in addition to his wife, Helen, of the home, are a son, Mark von Soosten, and his wife, Carol, of Belleville, Illinois; his daughter, Pam Werner, and her husband, John, of Huntingtown, Maryland; grandsons Paul von Soosten, and his wife, Leah, Kyle Werner and Nicholas Werner; a brother, Virgil von Soosten, and his wife, Cindy, of Temple, Texas.
Arnold was preceded in death by his parents, his brothers, Melvin von Soosten and Paul von Soosten; his sister, Carolyn Berroth.
Memorial services will be at 2:00 p.m., Thursday, July 22, 2021 at Trinity Lutheran Church in Girard with Pastor Mark Wenzelburger officiating. Burial will be in Immanuel Lutheran Cemetery near Hepler.
Memorials are suggested to the Lutheran Women's Missionary League and these may be left at the church or the Smith-Carson-Wall Funeral Home, 518 W St. John, Box 258, Girard, 66743.
Friends may call after 2:00 p.m., Wednesday at the funeral home.
Condolences may be sent to www.wallfuneralservices.com.