Man on a mission: Solo cycling across America to raise awareness against human trafficking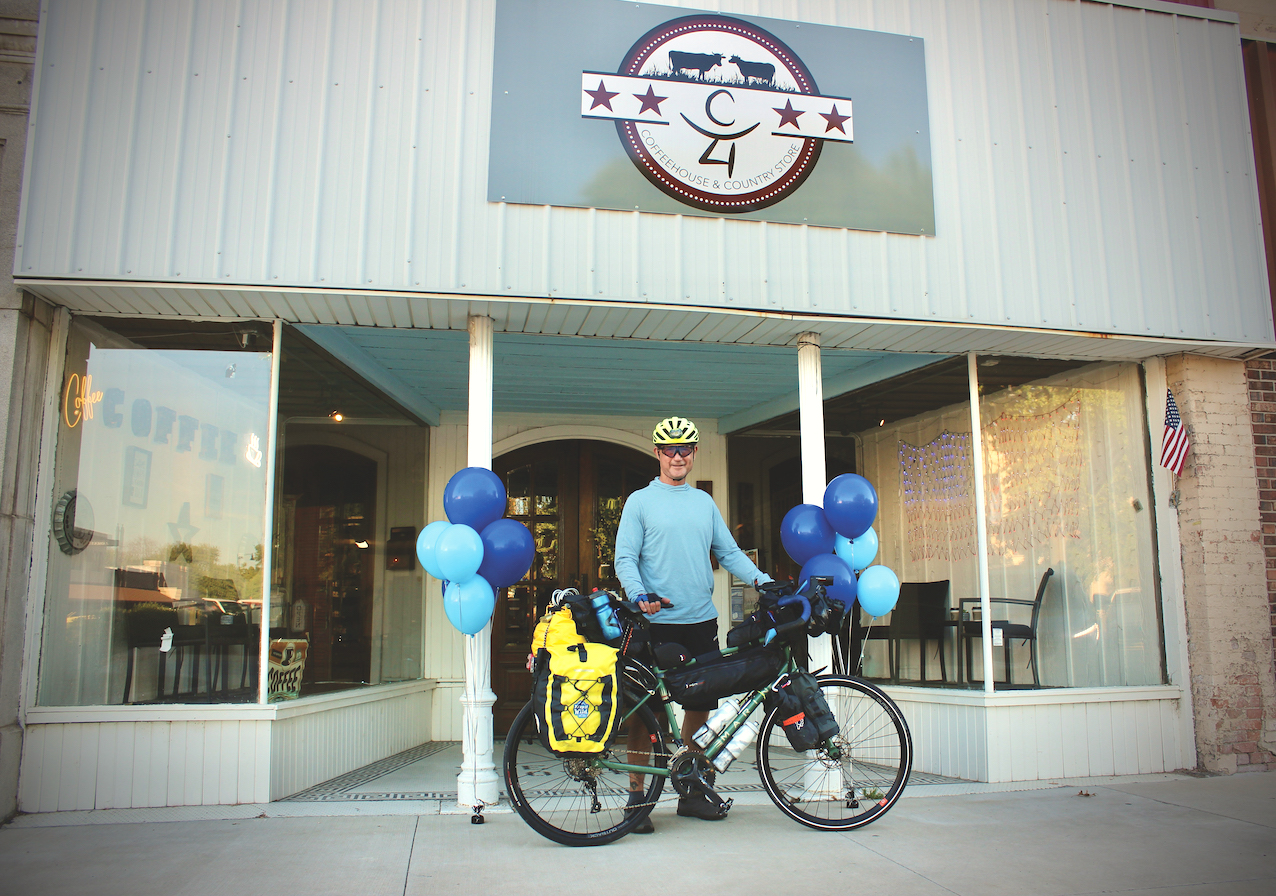 By Leslie Montee
Hometown Girard
Most of us have at least one thing we are passionate about in our lives – causes we are dedicated to. Sometimes it starts as a hobby, or maybe it is something that has had a major impact on your life. But would your passion drive you to embark on a solo bicycle trip across the nation and ride close to 6,000 miles? Choosing the long path from the Canadian border down to the Florida Keys, with many chances to meet and inform the most people, that is exactly what James is doing. His ride is self-funded with a goal of spreading awareness of sex trafficking and to raise at least $50,000 for Silent Bridge, a non-profit fighting trafficking around the globe.
James is a regular guy from the Northwest. He is retired, now a full-time husband, father, and grandfather. But that is about all he wants to share about himself. He wants to keep the focus on the mission. His mission? Raising awareness about human trafficking. Human trafficking is a huge problem, and in fact according to James, "It's not fair to call it significant…no, it's a gigantic problem in the United States!" he exclaimed. The biggest problem? Most people just have no awareness of it, and there is not much awareness about how the victims end up in those situations. James says human trafficking is the third largest criminal enterprise on the planet. With an estimated 24.9 million victims worldwide at any given time, human traffickers prey on adults and children of all ages, backgrounds, and nationalities, exploiting them for their own profit.
On James' journey thus far, he has traveled 3,537 miles, and has had no major disruptions, completing the Western Express Trail, now on the TransAmerica Trail, then when he reaches the Underground Railroad Trail in Kentucky, and finally the Southern Tier Route. The responses and interactions with individuals he has met along the way has been lifechanging not only for James, but hopefully for human trafficking victims as well. In every town he stops, people inevitably see his bike loaded down with gear and get curious. "Where are you headed? What motivates you to ride this far?" people ask him. This opens the door for James to inform people of the rapidly growing problem in our country. "I've had many meaningful conversations with wonderful people across the country who, when they hear of this problem, when it's brought right in front of their face, they want to help," explained James. "My hope is that people do get curious and think, 'What can I do as an individual?'" he said. He described one meaningful interaction with a woman in Carson City, Nevada. As he explained the issue at hand to her, she became interested, and later contacted Xquisite, a non-profit that offers support to victims, and inquired about volunteering at their location.
A common misconception about trafficking is the automatic thought of someone being forcefully kidnapped and held in captivity, but often that is not the case. "Most times it's not kidnapped victims, it's runaways. People go willingly. They're running away from a horrible situation, and what the trafficker is offering them, a place to sleep and food at the very least, is better than what they came from," describes James. "There is a huge grooming aspect of it, similar to that of an occult. Along the way, victims make friends in the same situation they are in, and often end up addicted to drugs, and feel like there's no reason to leave." A common question people ask when referring to human trafficking victims is "Why don't they just leave?" James informed me. "But could you just get up and walk away from your life?" he posed. "The victims find a form of love, camaraderie, and even feel a value or purpose, making it hard for them to just up and leave." To James, the question we should be asking is "Why do they end up there in the first place?" This is where we need to make a change. He describes many victims having come from improper foster care situations.
Even if we can't volunteer our time, or donate money to the victims, James says there are other ways we can help prevent this problem. He believes a big impact can be made just by having conversations with our own children and families. "No one is immune to the potential risk," he reminds us. "And no one has a right to treat you with any form of disrespect."
The trip has been very rewarding for James, with the information he is spreading around the nation, and for himself personally. James describes having lived a busy life, and now that he is retired, he can decompress. "It's kind of meditative, riding 50+ miles a day. I don't listen to anything when I ride."
As he heads back to his Airbnb to rest and stretch for the day, he tells me he has his sights set on Chicken Annie's for dinner, which he's very much looking forward to experiencing.
With a belly full of chicken, he will rise early Thursday morning and hit the highway by 4:30 AM. He will head east with a goal of 77 miles for the day, ending up in Ash Grove, Missouri. He admits he is a little sad to leave Kansas. "A big part of this trip is finding the heart of America, and I tell ya, a lot of it is right here in Kansas," he heartfeltly remarks. "I get treated well here. Kansas is the most bicycle-friendly state I've ever been in." He describes drivers being patient and cautious when passing, something I give credit to the common sight of farming implements on the highways. We are used to slowing down here.
All of us at Hometown Girard would like to wish our absolute best to James and his journey, and we hope this article piques some curiosity, and our readers will ask themselves, "What can I do?"
For those who wish to follow James' journey, you can follow along on his website at https://www.bike4silentbridge.com or his Instagram @bike4silentbridge. For any questions, James is open for communication via email at bike4silentbridge@gmail.com.
Silent Bridge is a United States-based non-profit that exists to provide recovery and reintegration support for victims of human trafficking and sexual exploitation throughout the world. Their goal is to end this grave injustice against the most vulnerable while working to restore communities and those ravaged by the global human trafficking industry. Since 2019, its efforts in remote areas have included hygiene and nutritional deliveries as well as homes providing shelter, meals and education for sex trafficking victims and their dependents. Learn more at www.silentbridge.org.