A common field one day, a field of honor forever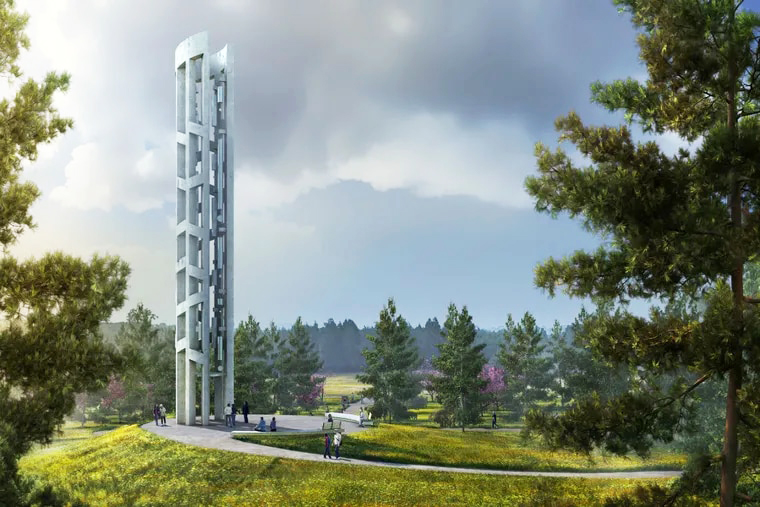 OPINION
By Leslie Montee
Hometown Girard
Just a field in Pennsylvania. It never quite had the ring to it as the World Trade Center or the Pentagon. The scene wasn't as dramatic. There weren't videos on loop of people screaming, emerging from the rubble. After all, it was just a field in the middle of nowhere. In the instant that the plane hit the ground, it was over.
It was reported that the last survivor was pulled from the twin towers 27 hours after the collapse. But in the field in Pennsylvania, there were no survivors. Just some smoke and an empty, charred crater in the ground would remain. The image was sorely misleading. 21 years after the tragedy, debris from the impact can be found at the hallowed site. Pieces of metal and wire are still there. But more importantly, there are pieces of 40 families' hearts that are there. They always will be.
When we think of the tragedies that occurred on September 11, 2001, we automatically think of the towers. We think of the falling buildings and sirens blaring. We think of New York. I think it's important to reflect on the tragedies that impacted our country, and this year I am personally making an effort to think of a very important piece of that day that isn't so publicized: the field in Pennsylvania and what occurred in the skies above. There were 40 heroes who boarded Flight 93 on the morning of September 11. They probably didn't know they were heroes, and never thought of themselves as such, even in their last moments, but I do. And I think the rest of America would agree with me. There were four other individuals on that flight, but enough has been said about them. They're not important and we're not going to talk about them. The one thing I will say about them is that they were clearly not intelligent. They picked the wrong plane to mess with.
For on that plane was a group of solid Americans. Among them was a national collegiate judo champion and blackbelt, a former rugby player, a former police officer, a college quarterback, and a World War II Veteran, just to name a few. Talk about a severe case of misreading a room.
There are several ways to recount the events that unfolded that day, but the condensed version is this: The attacks on the World Trade Center and the Pentagon were already in motion when the hijackers began to overtake Flight 93. From phone calls and information coming from the ground, the passengers learned of those events. There was reason to believe that Flight 93 was headed towards the U.S. Capitol building, especially after the aircraft originally slated for San Francisco took an abrupt turn back east. Quickly, the passengers decided they had to do something. After a vote, it was decided that they would take back the aircraft and deter it from hitting the Capitol. At all costs. Did they know that they would not survive the event? I think they did. But they acted anyway. What a patriotic thing to do!
That united cause manifested from a group of people who undoubtedly had many differences – cultural, political, social, or otherwise. They put it all aside and came together, making their plan for the greater good. They were selfless in their final moments, knowing what would come next for them. "Let's roll!" exclaimed Todd Beamer, passenger of Flight 93, in what were his last known words on a call with phone operator Lisa Jefferson. So, they rolled.
The flight audio recorder picked up transmissions of a scuffle during their counterattack. There was screaming, violence, pleas for help, sounds that we don't want to hear. Sounds that have never been released to the public. Authorities pieced together the scene by the sounds. In the end, we know that plane never got anywhere near the Capitol, or even a crowded area. After all, it just crashed in a field in Pennsylvania.
But it is so much more. It's hallowed ground now. It's a cemetery, the final resting place of 40 heroes. The site is now home to the Flight 93 National Memorial complete with a Tower of Voices, a tower that stands 93 feet tall and has 40 unique chimes in honor of the 40 heroes. A ceremony will be held there to honor them this September 11 and people across the nation will be thinking of them, their families, and what they sacrificed. I invite you to join.
The courageous passengers were granted the Congressional Gold Medal on September 11, 2014, for their heroic and noble actions with an inscription of "A common field one day, a field of honor forever" on the obverse side and on the reverse, it states "We honor the passengers and crew of Flight 93 who perished in a Pennsylvania field on September 11, 2001. Their courageous action will be remembered forever."
In Todd's final moments, before his call to action, he asked Lisa to tell his family he loved them. She agreed. He asked her to recite the Lord's Prayer with him. She agreed. He asked her to recite the 23rd Psalm with him. She agreed.
"Yea, though I walk through the valley of the shadow of death, I will fear no evil; for thou art with me; thy rod and thy staff they comfort me. Thou preparest a table for me in the midst of mine enemies; thou anointest my head with oil; my cup runneth over."
"Surely goodness and mercy shall follow me all the days of my life. And I will dwell in the House of the Lord forever."
And that's where we pray they are now, all 40 of them.