Lady Trojans' season comes to an end
BY NICK CORN
In their sub-state semifinal matchup with Columbus, Girard fell 42-54 to the Lady Titans.  It was their third game with Columbus this year, all ending in losses. 
Columbus ran out to a 10-2 lead early in the first quarter, but Ashley Ray, Olivia Hanson, and Morgan Herlocker all hit baskets to bring the score to 13-8 at the end of the quarter.  Girard missed several close-range shots in the first, and that was the difference in the game to that point, as Columbus was hitting more of their easy shots. 
MaCahla Leslie and Calea Augustine each scored at the beginning of the second to shave the deficit to one point, and the game went back-and-forth until Columbus took a six-point lead and looked like they could pull away.  Then, Hannah Jones swished a three from the corner to cut the lead down to 21-18, but the Lady Titans would soon take another four-point advantage.  After a Herlocker two and Hanson free-throw cut the lead to one, Jones nailed a trey off the backboard with a hand in her face just before the halftime buzzer erupted.  Heading into intermission, the Lady Trojans held a 26-24 lead. 
A more energized and intense Columbus squad showed up in the second half, and four minutes into the quarter, the Lady Titans were up 37-27.  Columbus would go on to outscore Girard 20-7 in the third, and would take a 44-33 lead into the fourth quarter.
A pair of layups from Ray would bring the Lady Trojans within seven points to start the fourth quarter, but that would be as close as they would come, as Columbus cruised to a 54-42 victory.  The loss ended Girard's season with a 7-14 record, and would mark the end of Jones' and Carly Heatherly's basketball career as Lady Trojans.  Jones scored 8 points in her last game, and Heatherly watched from the sideline due to a knee injury suffered in last week's game against Frontenac.  Heatherly averaged 9.3 points-per-game this season, and her best night came against Galena as she scored 20 points.  Jones averaged 6.1 points per contest, and she scored a season-high 11 points twice this year.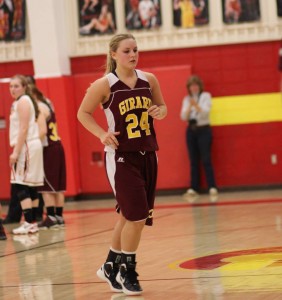 With the departures of just two seniors, Girard will be returning a strong core next year.  Starters Herlocker, Leslie, and Megan Gray will all be back for their senior season next year.  The Lady Trojans will also return their three biggest bench contributors next year with Augustin, Hanson, and Ray returning for their sophomore season.  Two of the three sophomores will likely fill the vacant spots in the starting lineup.
Lady Trojans March 6

Girard 42, Columbus 54

Q1

Q2

Q3

Q4

Final

GHS

8

18

7

9

42

CHS

13

11

20

10

54

Girard:  Ray 10, Jones 8, Herlocker 8, Hanson 6, Augustin 6, Leslie 4

Three-pointers:  Jones 2