Area baseball fans can cheer for local club team at World Series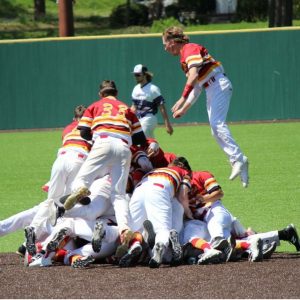 When Colgan High School graduates Nathan Grimaldi and DJ Piccini attended the National Club Baseball Association World Series at Jaycee Ballpark in Pittsburg three years ago, they came away with a dream: to start a club team in Pittsburg and one day bring the World Series back to their hometown.
"We weren't even aware that club baseball was that much of a thing," Grimaldi said. "But when the World Series came to town, that's what inspired us to start a club. We didn't know if we'd be good enough to able to make it to that level."
They did: the Pittsburg State Club Baseball Team won the Great American South conference last weekend, and from May 18-22 will compete on their home turf in the World Series for the first time.
The team will be one of the top eight NCBA Division II teams from all eight regions who go head to head to determine a league national champion.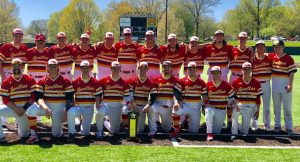 "We accomplished starting the club and qualifying, now we just have to win it," Grimaldi said.
Grimaldi, an outfielder and leadoff hitter, is a biology major heading to premed school in the fall. His dad, Gary Grimaldi, coached baseball at Pittsburg State and his grandfather, the late Al Ortolani, was a longtime sports trainer at PSU.
"I grew up playing in J.L. Hutchinson at Jaycee Ballpark where the World Series will be held with a lot of the guys who are now on the club team," Grimaldi said. "Our shortstop, Blake Vail — I've played with him since I was nine. Fifty percent of our roster is local. We all mean so much to each other."
"There are 11 seniors on this team, and for us it's all about playing at Jaycee one last time, for our friends, for our families, for the community," Grimaldi said. "To spend that last weekend of baseball, doing what we love, on our home turf — it will be pretty special."
Six team members remain from the original team, started in 2016, which has grown to include about 20 members. Classified as a student organization at Pittsburg State, they pay dues, conduct try-outs, do their own fundraising, and operate under a set of bylaws and a constitution.
As a member of the Great American South Region, they routinely play Arkansas, Missouri State, Central Arkansas, Oklahoma State, and Tulsa. At the conference tournament last weekend in Cape Girardeau, Missouri, they played Ohio State, Xavier, and Truman.
"Now we're focused on the Series and giving our home crowd some great games," Grimaldi said. "It's going to be an emotional weekend."