Obituary: Robert G. Miller
Robert G. Miller, 82, passed away Monday, April 24, 2017, after a brief, but strong battle with colorectal cancer.  He was born July 19, 1934, in Joplin, MO, to Walter J. and Lourene (Peak) Miller.  Robert was the eighth child in a family of nine children.
He served in the United States Army Corps of Engineers at Fort Benning, GA, and was honorably discharged in January, 1959.  Robert received his Bachelor of Science Degree in Police Science from McPherson College in 1973.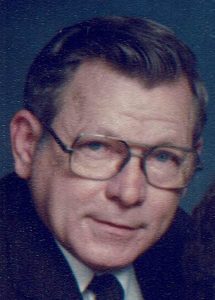 In 1962, Robert joined the Hutchinson police force as a patrolman.  During his 25 year career, he was promoted to corporal, sergeant, detective, and lieutenant.  Working in the Juvenile Department was the capstone of his career.  He retired as the Director of the Juvenile Department in 1987.  Robert was a member of the Fraternal Order of Police, president of the Twin Oaks Boys' Home, a member of the Reno County Juvenile Justice Community, and served on the advisory board for building Bob Johnson's Youth Shelter.  He attended the first class of the Law Enforcement Training Center, and was involved in setting up curriculum for the center at a later date. Robert was a member of St. Teresa's Catholic Church, Hutchinson.
He married JoAnn Wilson at Our Lady of Guadalupe Catholic Church, South Hutchinson, on Dec. 28, 1957.
Survivors include:  son, Monte Joseph Miller and wife Denise of Greenville, NC.; daughter, Michelle Miller of Wichita; brother, William Miller of Chapman; sisters, Hazel Cussimanio of Girard, Mary Boor of Mulvane, Marie Kasparek of Oklahoma City, OK; and many nieces and nephews.
He was preceded in death by:  his parents; brothers and their spouses, Walter and Petie Miller, Louis and Lois Miller, Ed and Leola Miller, Kenny and Marty Miller; sister-in-law, Betty Miller;  brothers-in-law, Carl Boor and Tom Cussimanio; two nieces; and four nephews.
Rosary will be 6:30 p.m. Friday, April 28, 2017, at Elliott Chapel, Hutchinson, with Father Michael J. Maybrier officiating.  Mass of Christian Burial will be 10 a.m. Saturday, April 29, 2017, at St. Teresa's Catholic Church, 211 E. 5th, Hutchinson, with Father Michael J. Maybrier officiating.  Burial will follow in Fairlawn Burial Park, Hutchinson, with military honors conducted by the Fort Riley Honor Guard.  Friends may call from 9 a.m. to 9 p.m. Thursday and Friday at Elliott Mortuary, with the family to receive friends following the rosary from 7 p.m. to 8 p.m. at Elliott Mortuary.  In lieu of flowers, memorials may be made to St. Teresa's Catholic Church, in care of Elliott Mortuary, 1219 N. Main, Hutchinson, KS  67501.